Dymen Barkins
UX Researcher
Reimagining Course Management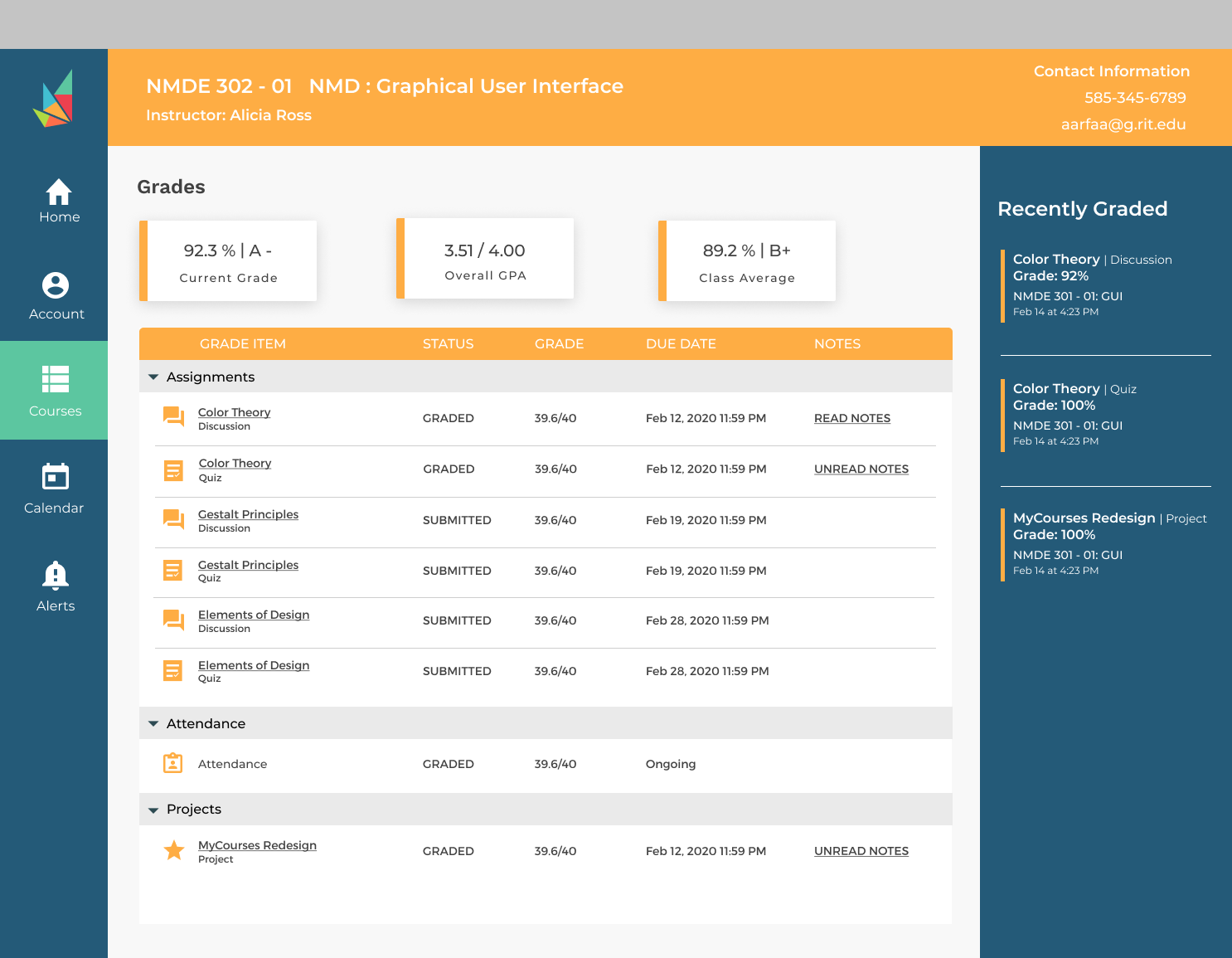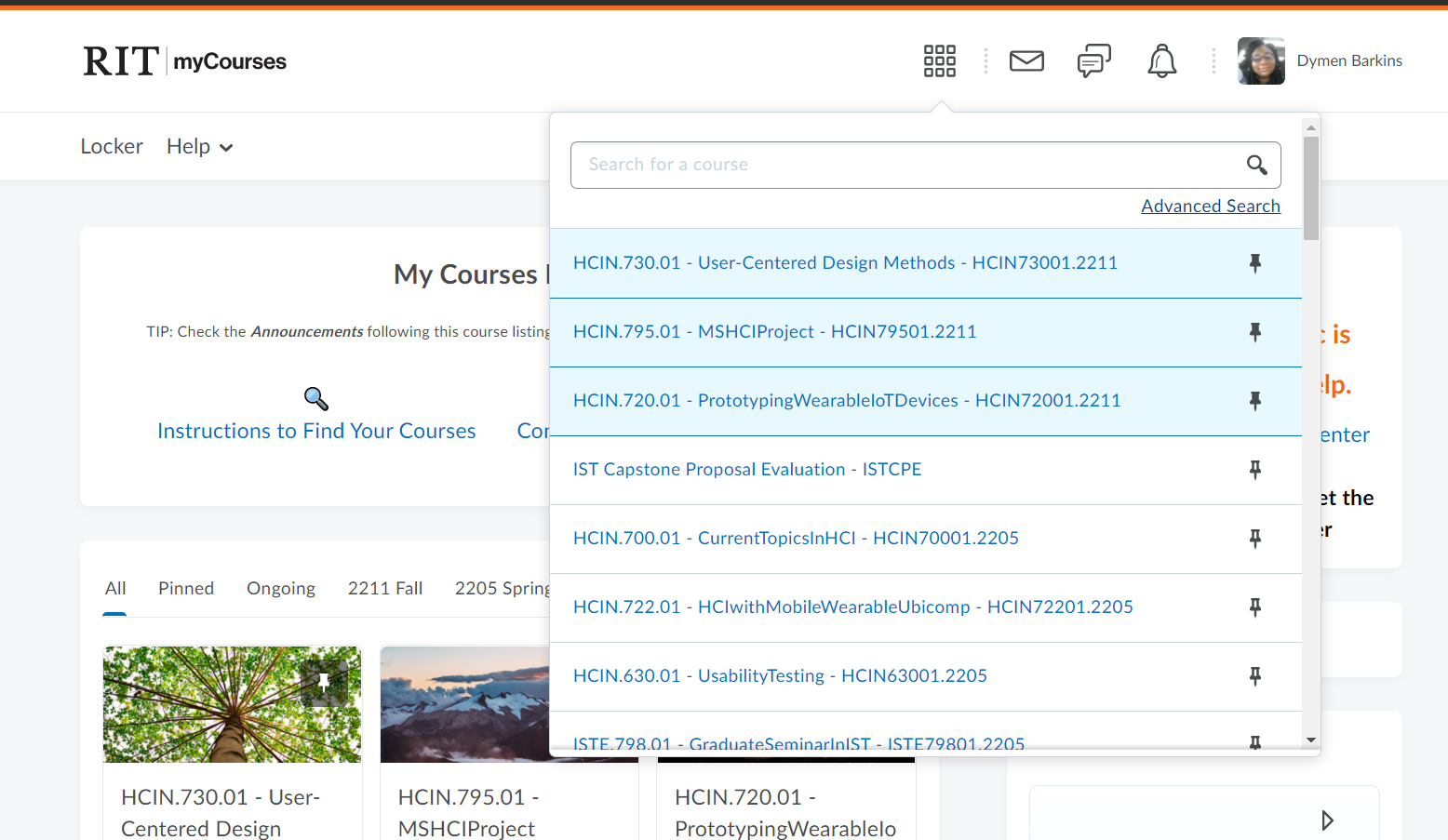 Overview
MyCourses is an online course management system used by college institutions all over the country and allows students to view course content, submit assignments, and connect with professors and their peers. However, shortcomings within the system often inhibit a student's ability to efficiently utilize the software.

In this project, we seek to redesign and improve upon the current MyCourses functionality to create a better overall experience for students.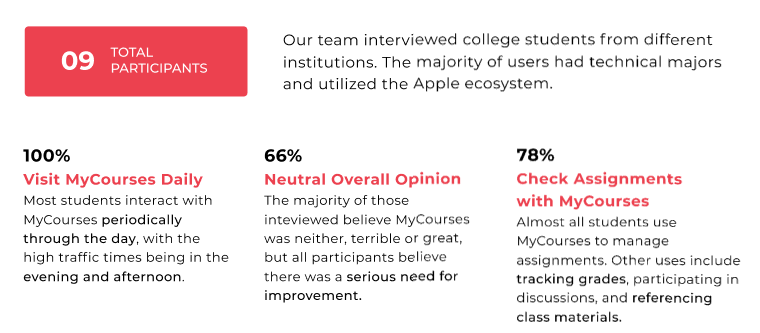 Interviews
At the discovery phase of my project, we conducted user interviews in order to get a better understanding of the problem. This method was selected since we had ample access to the population. We interviewed a total of nine participants to get an understanding of the population's current usage, frustrations, and desires when interacting with myCourses. Here's what we learned:
Clear Navigation
Navigating the current system is tricky. By improving the navigation system through the use of a side nav panel, students are able to access courses and materials with ease.
Streamline Pages
Many of the current pages are massive, requiring the user to scroll a long time to reach their goal. Streamlining the pages will allow students to complete tasks quickly and efficiently.
Enhance Calendar
The current calendar is difficult to use and hard to find, leading to hardly any usage by students. Enhancing the calendar by adding essential features will allow students to manage their courses and assignments more effectively.
Improve Overall Experience
Improving the student's overall experience with the system will increase motivation and productivity.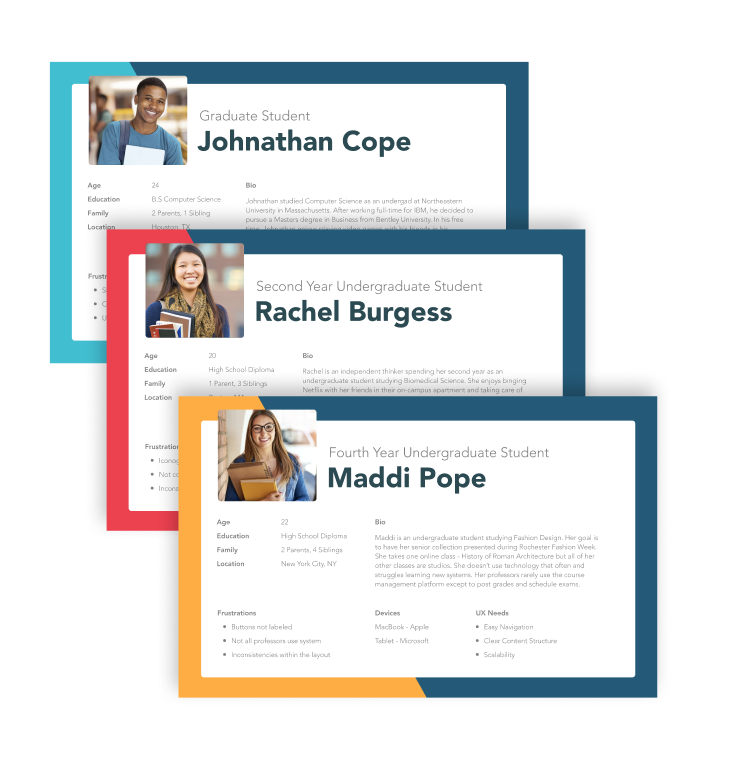 Personas
Based on the interview data collected, we set up three personas. We referred to them throughout the entire design process.
The use of personas helped us build empathy with groups we were not that well acquainted with and understand their specific needs and desires.
As a group, we conducted an interpretation session where we each went over our interviews and discussed our findings. We came up with three personas to represent our audience and showcase their unique experiences and interactions with the myCourses system.
Wireframes
To kick off our design process we went through three iterations of wireframes. We designed the wireframes using Figma and pen/paper sketches. The first round of wireframes were low-fidelity paper sketches to help us communicate our ideas with minimal effort.
As a team, we solidified the overall concept and switched to using Figma to create mid-level wireframes. With this round of wireframes, we received feedback on our designs from fellow students and professors. The feedback helped us fine-tune our overall information architecture, navigations, and interactions. Lastly, we create high-fidelity wireframes which would serve as a blueprint for our final designs.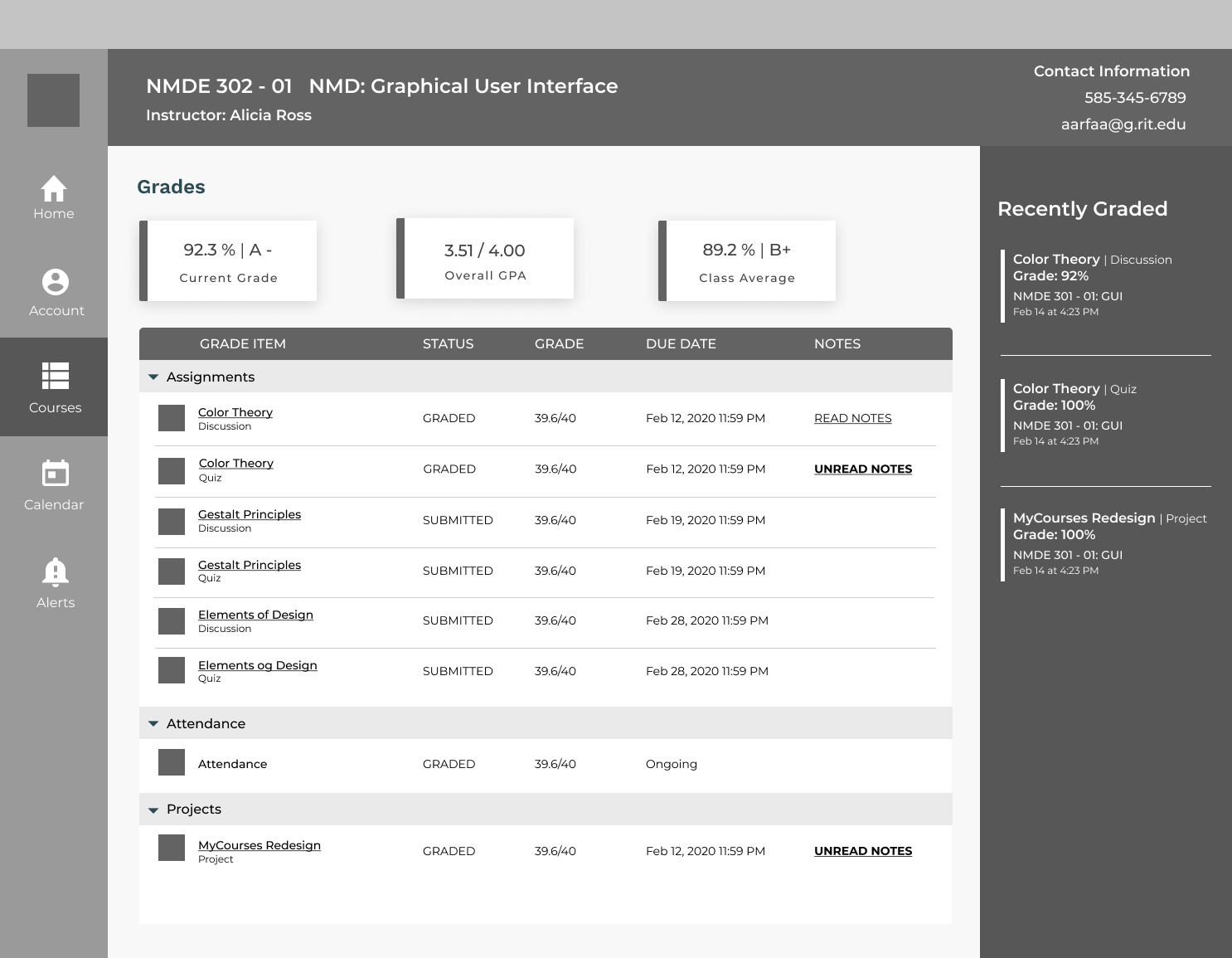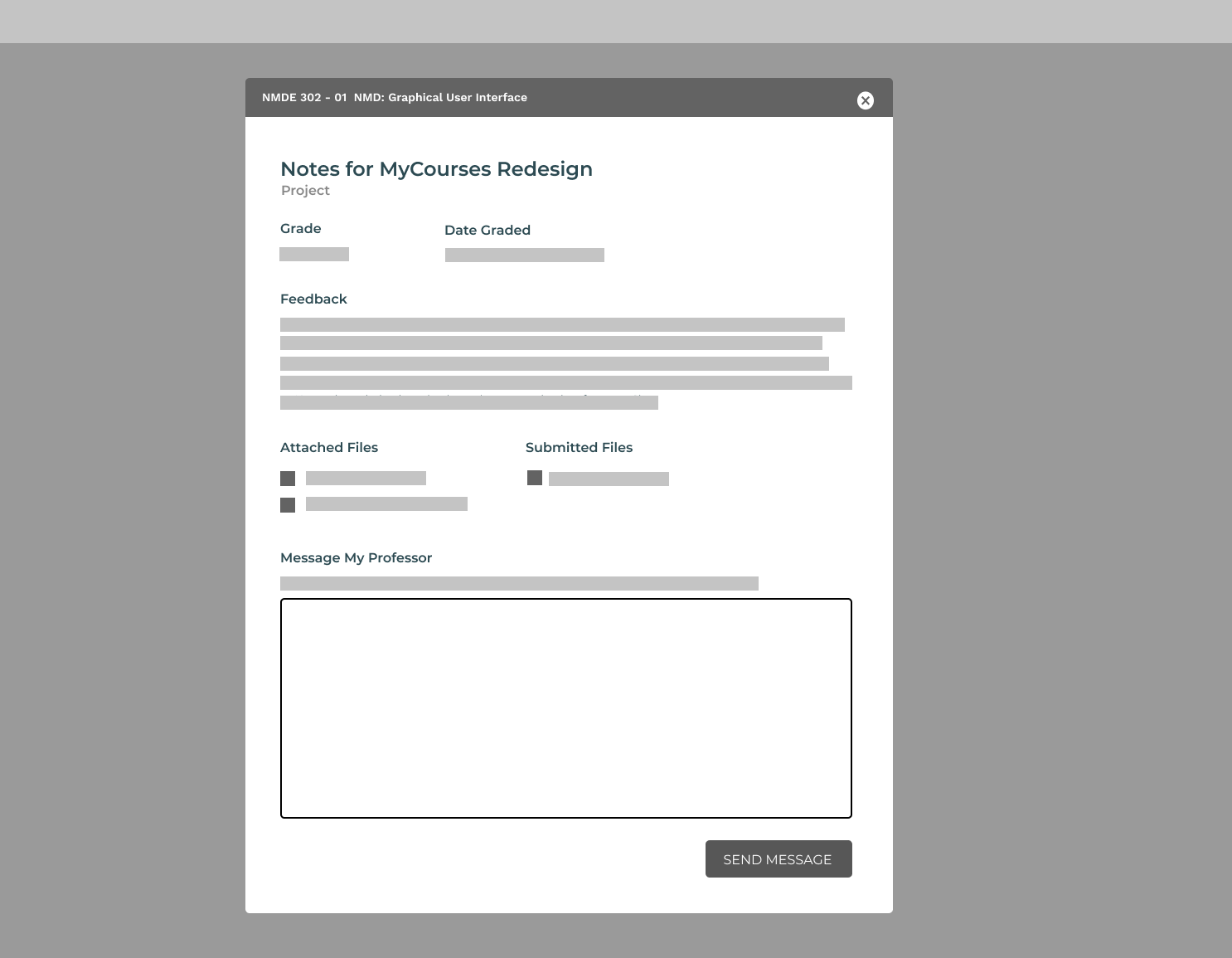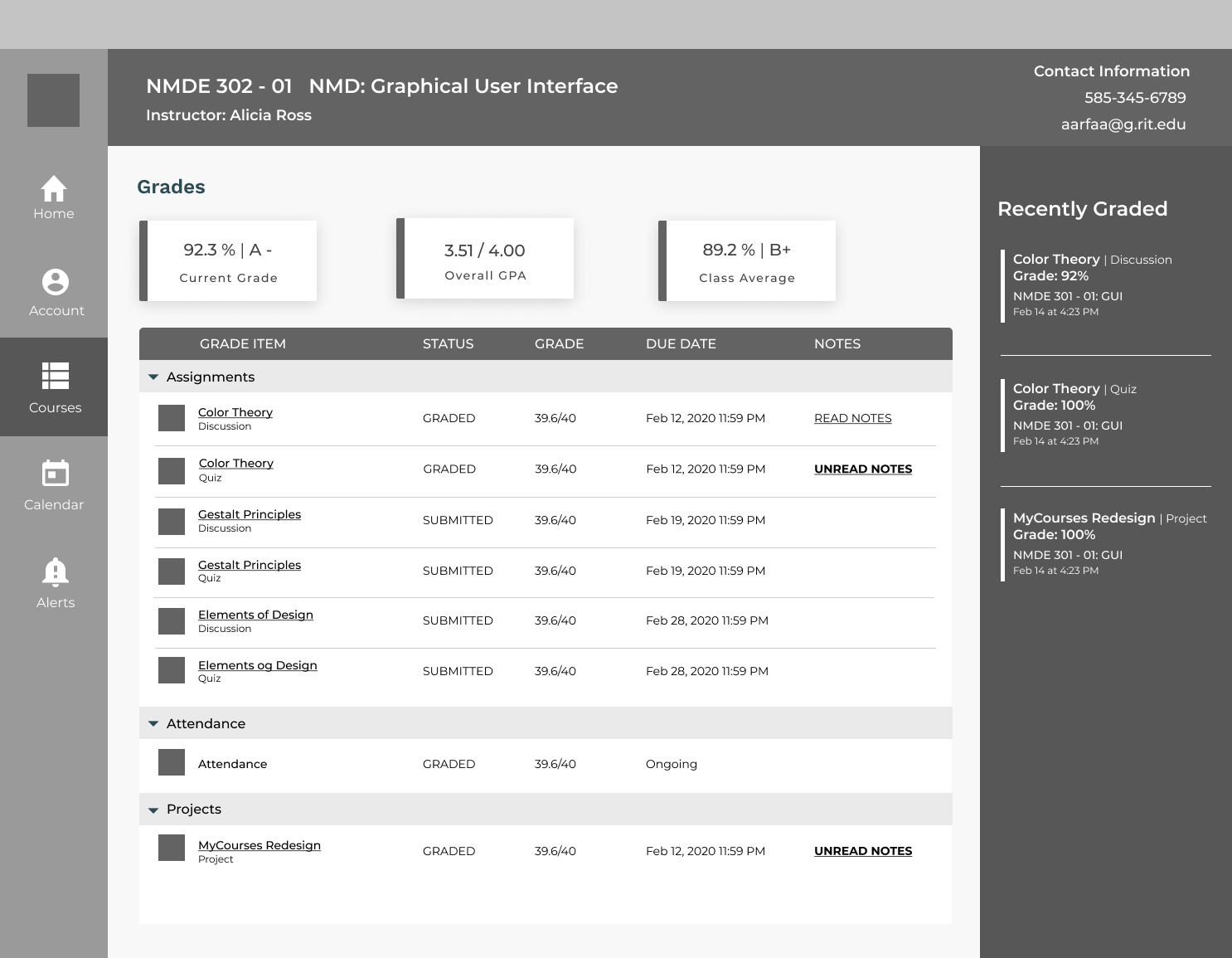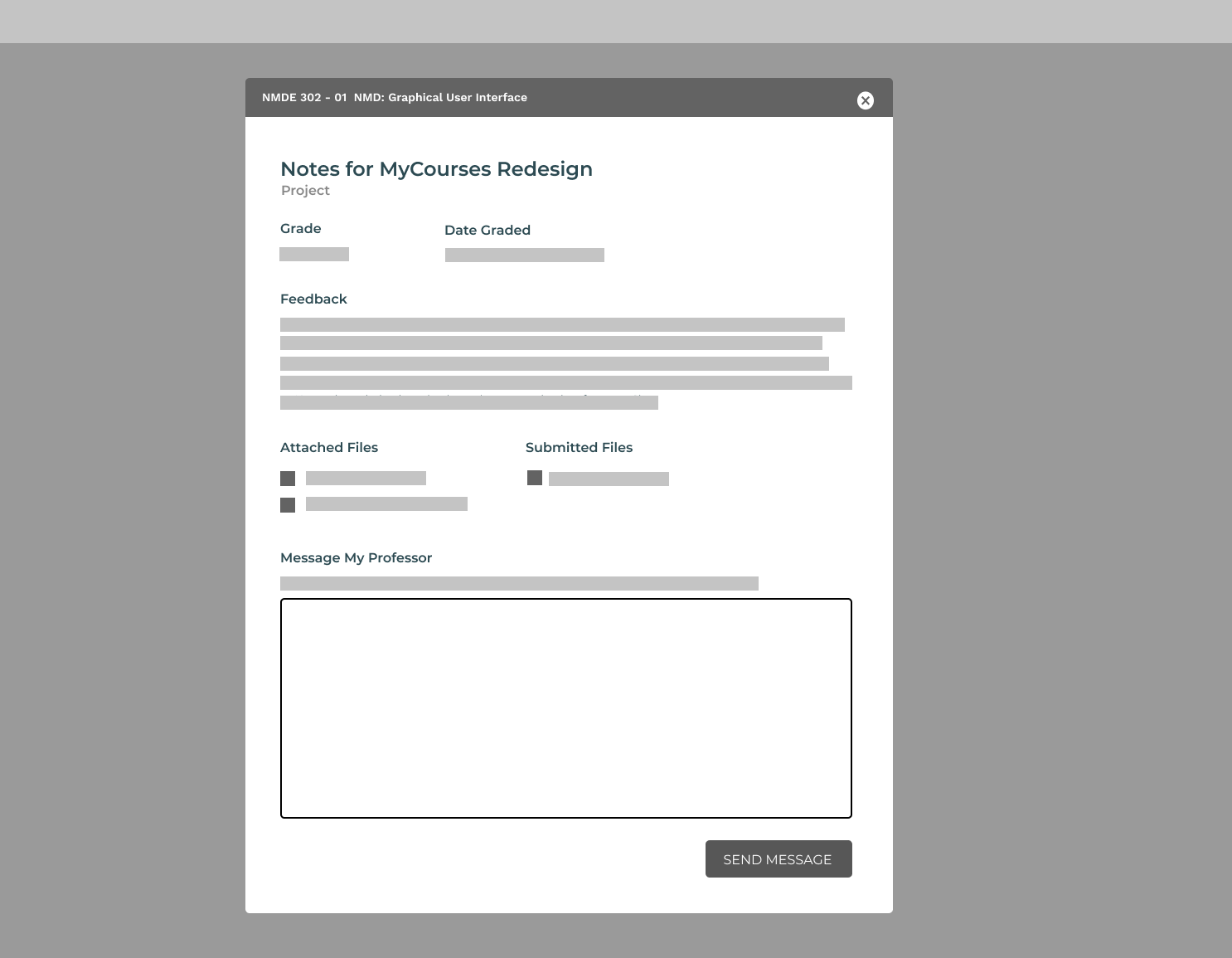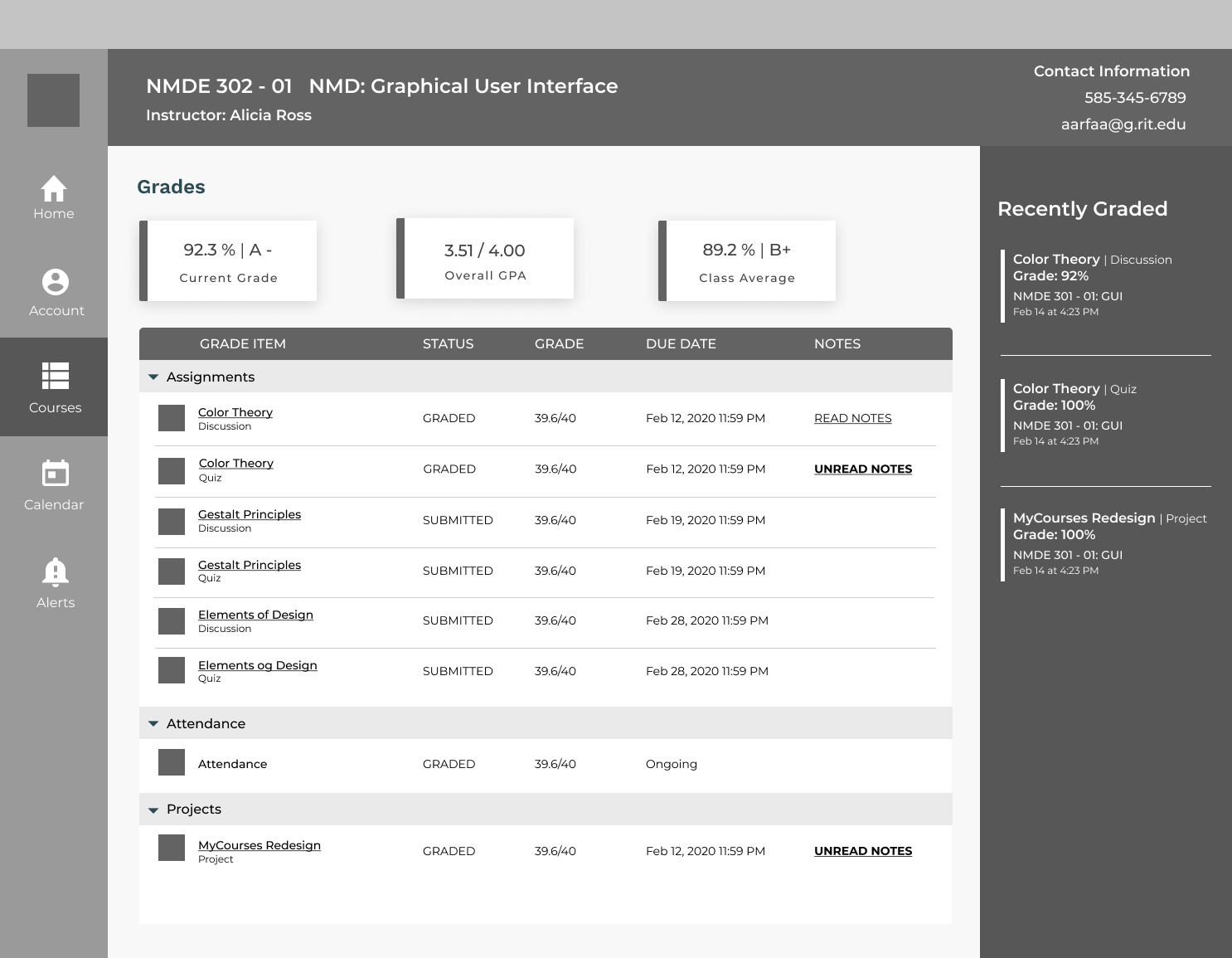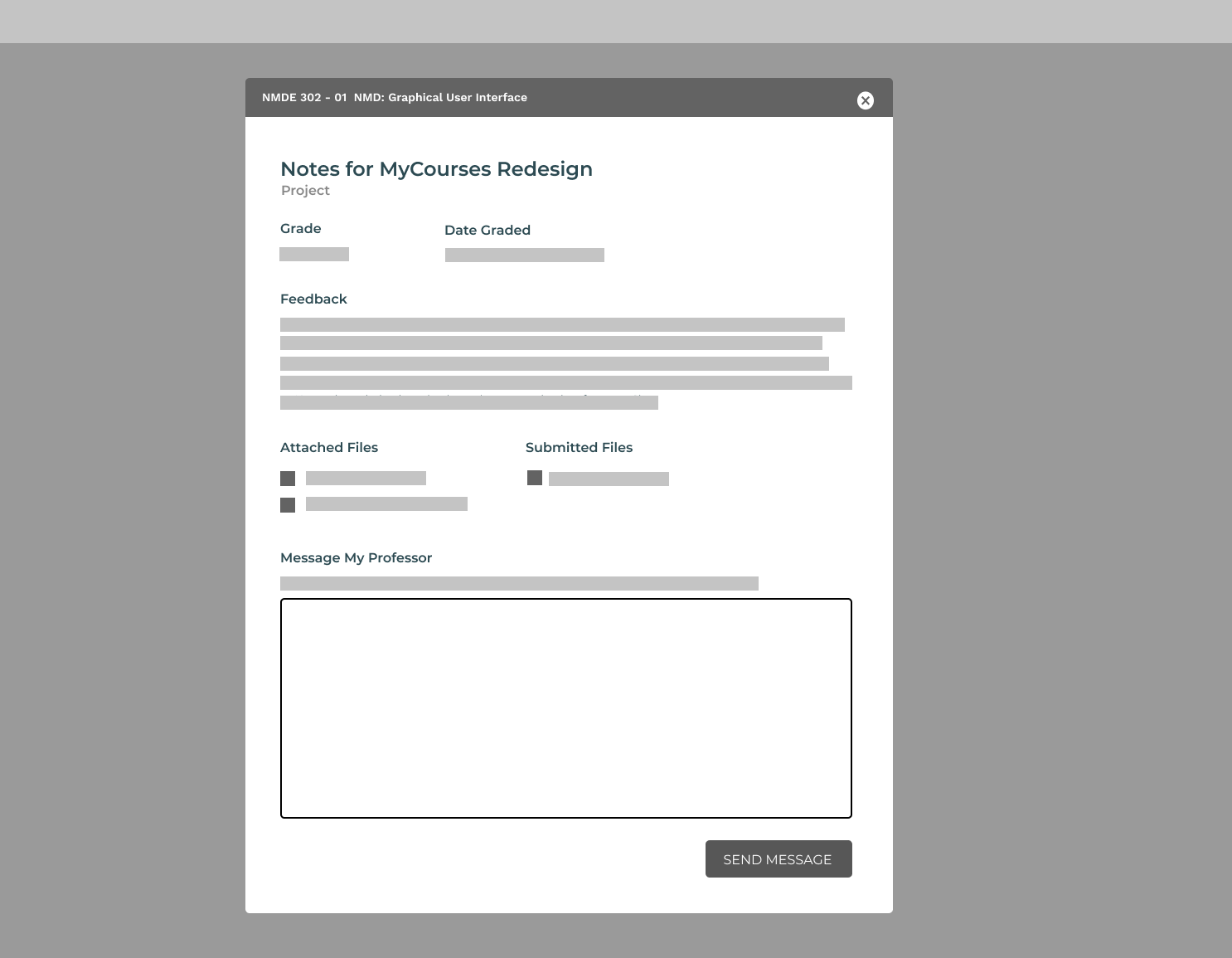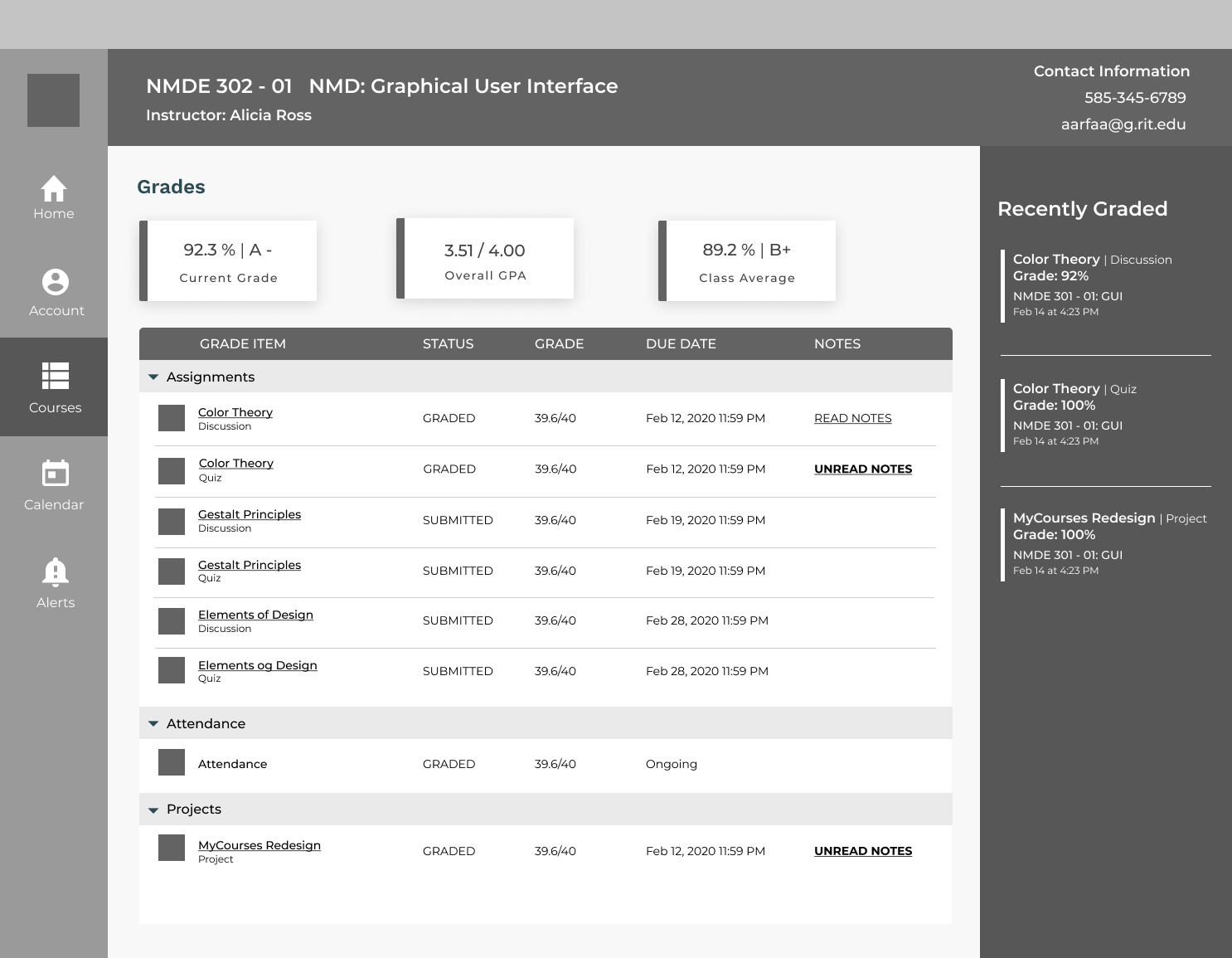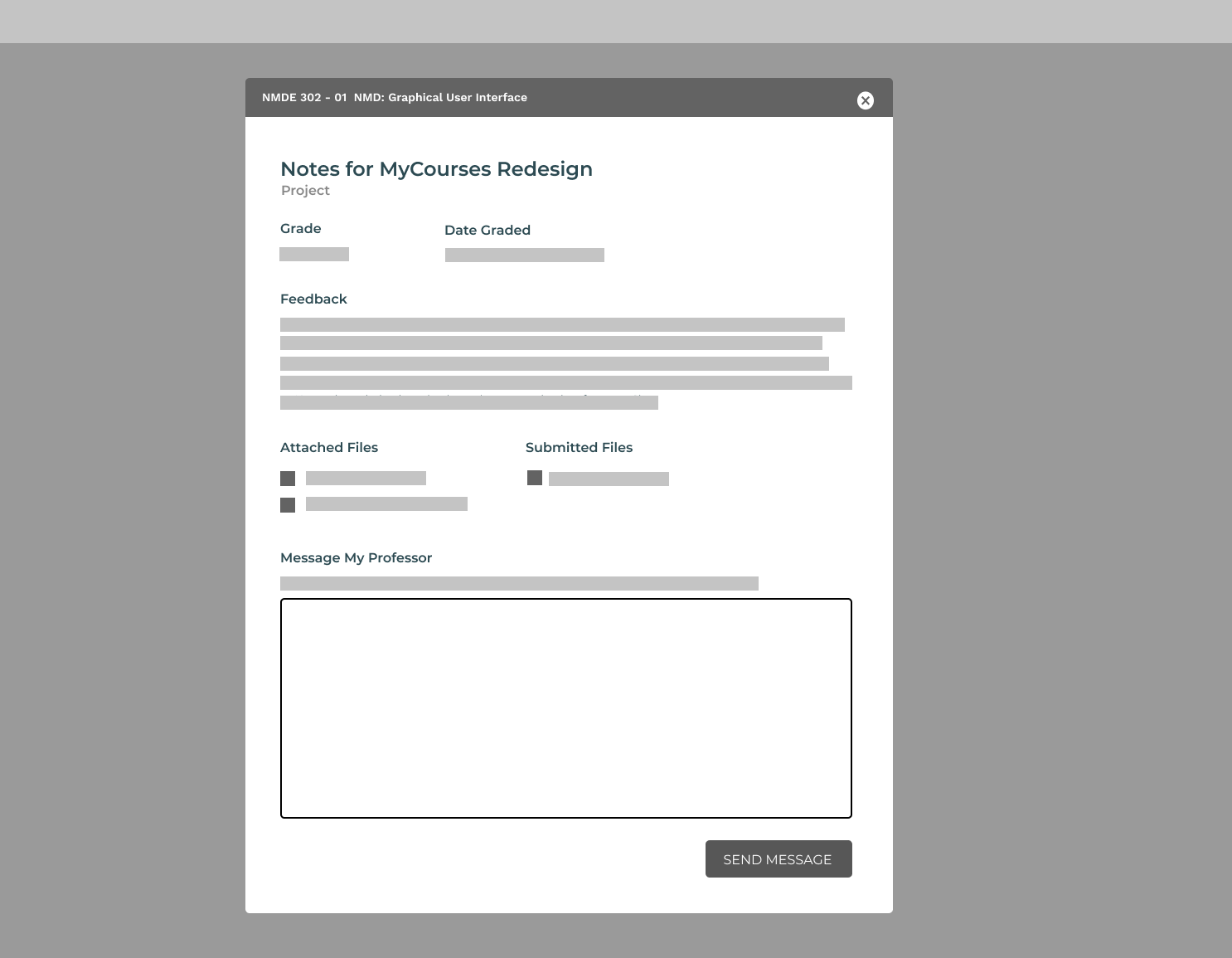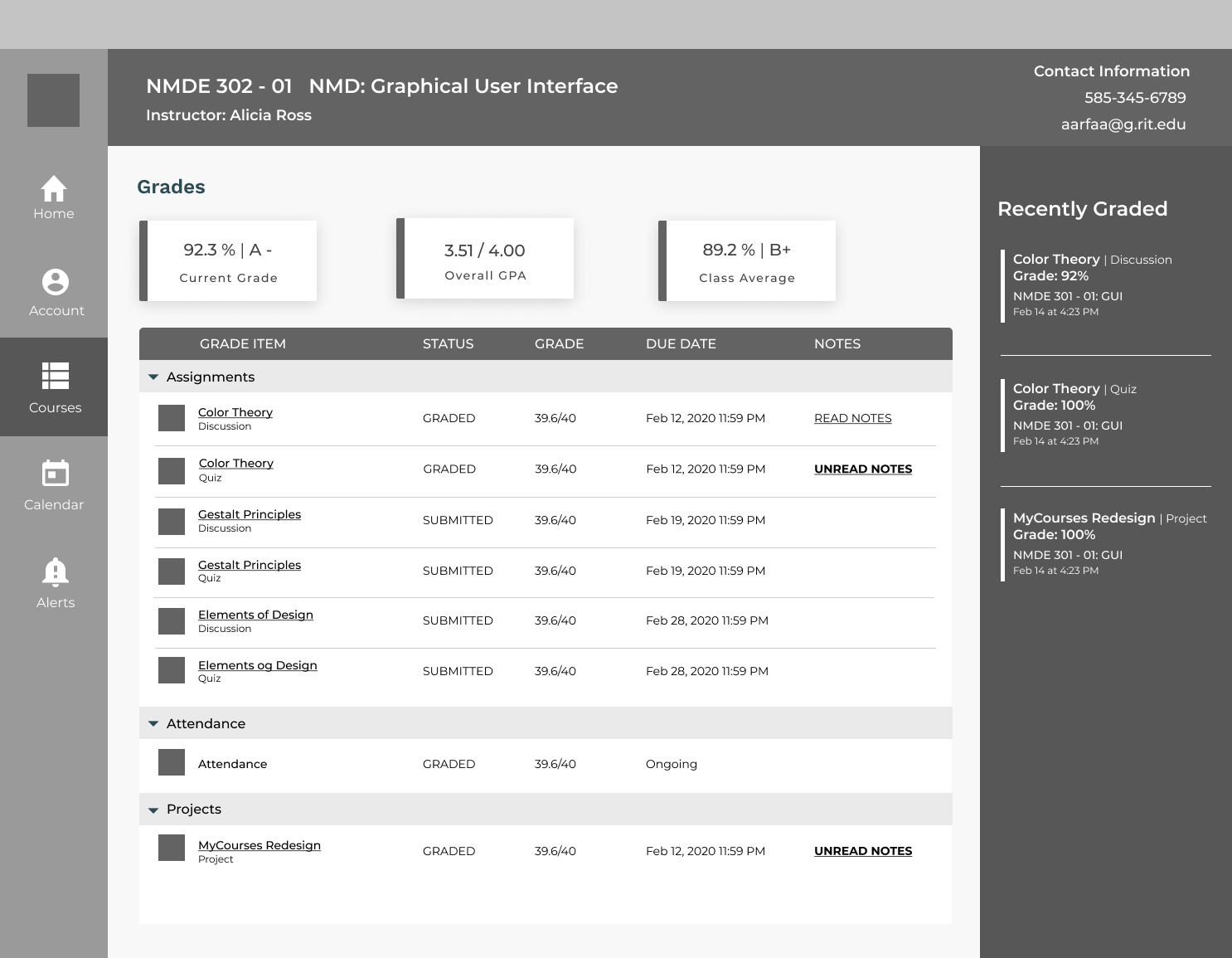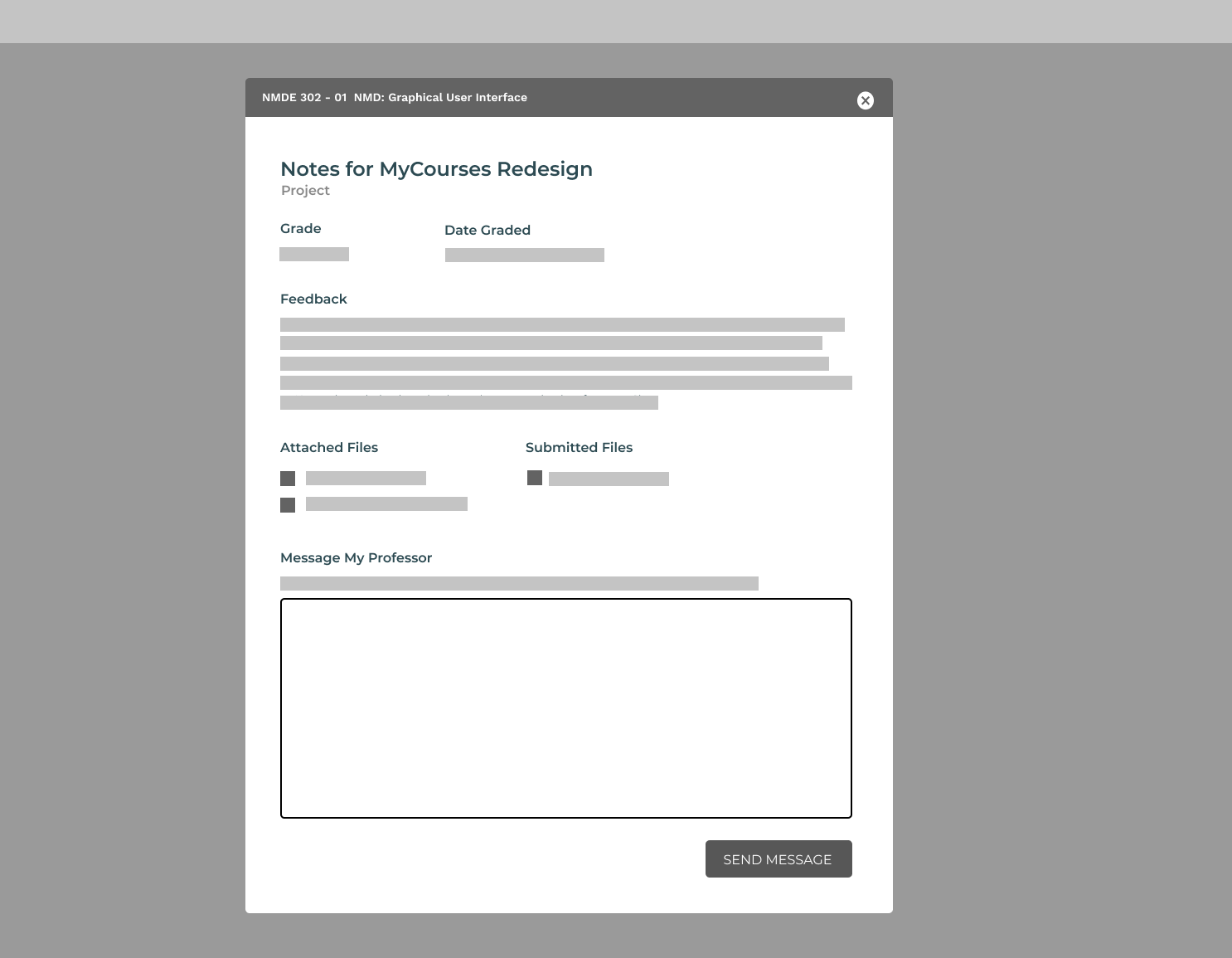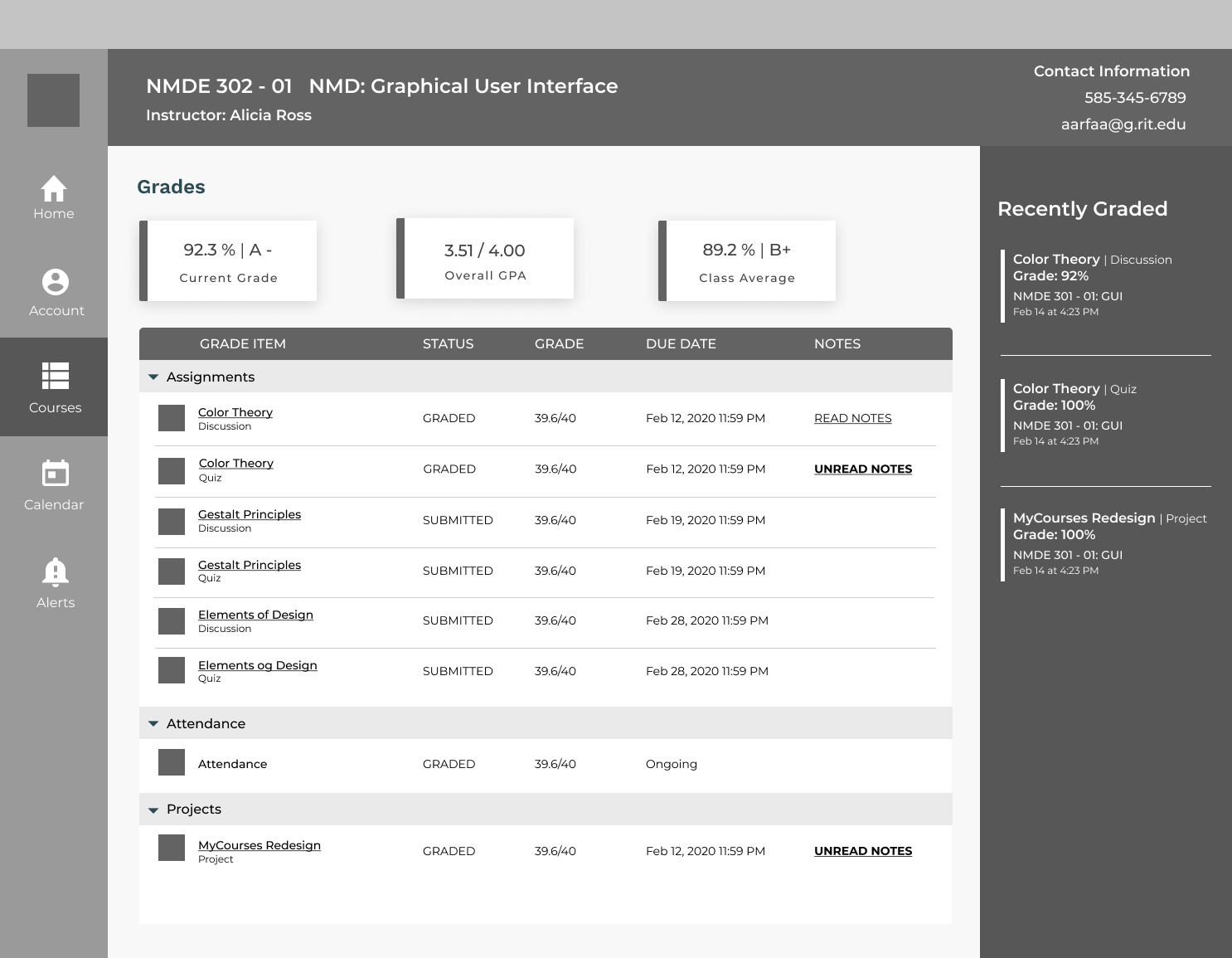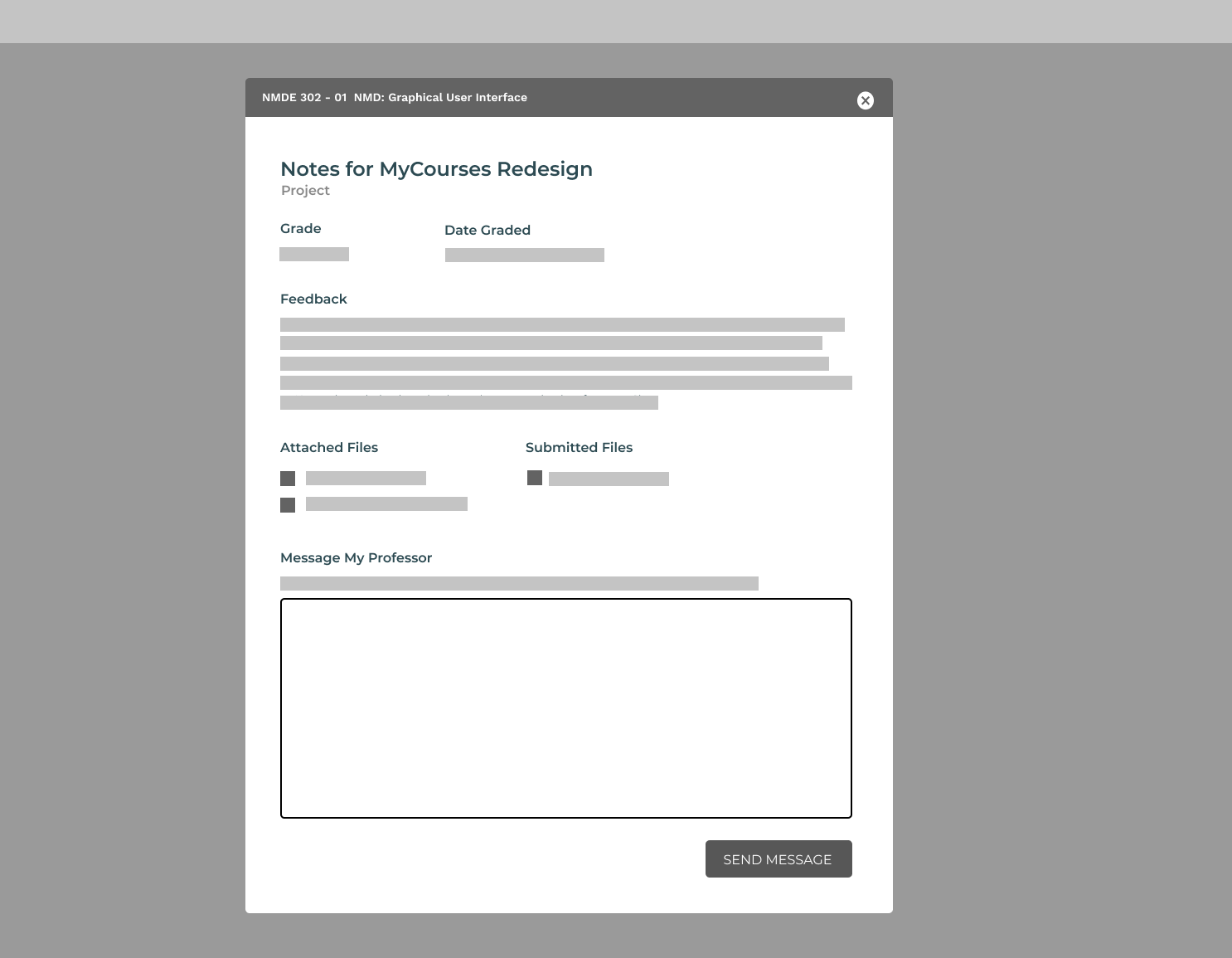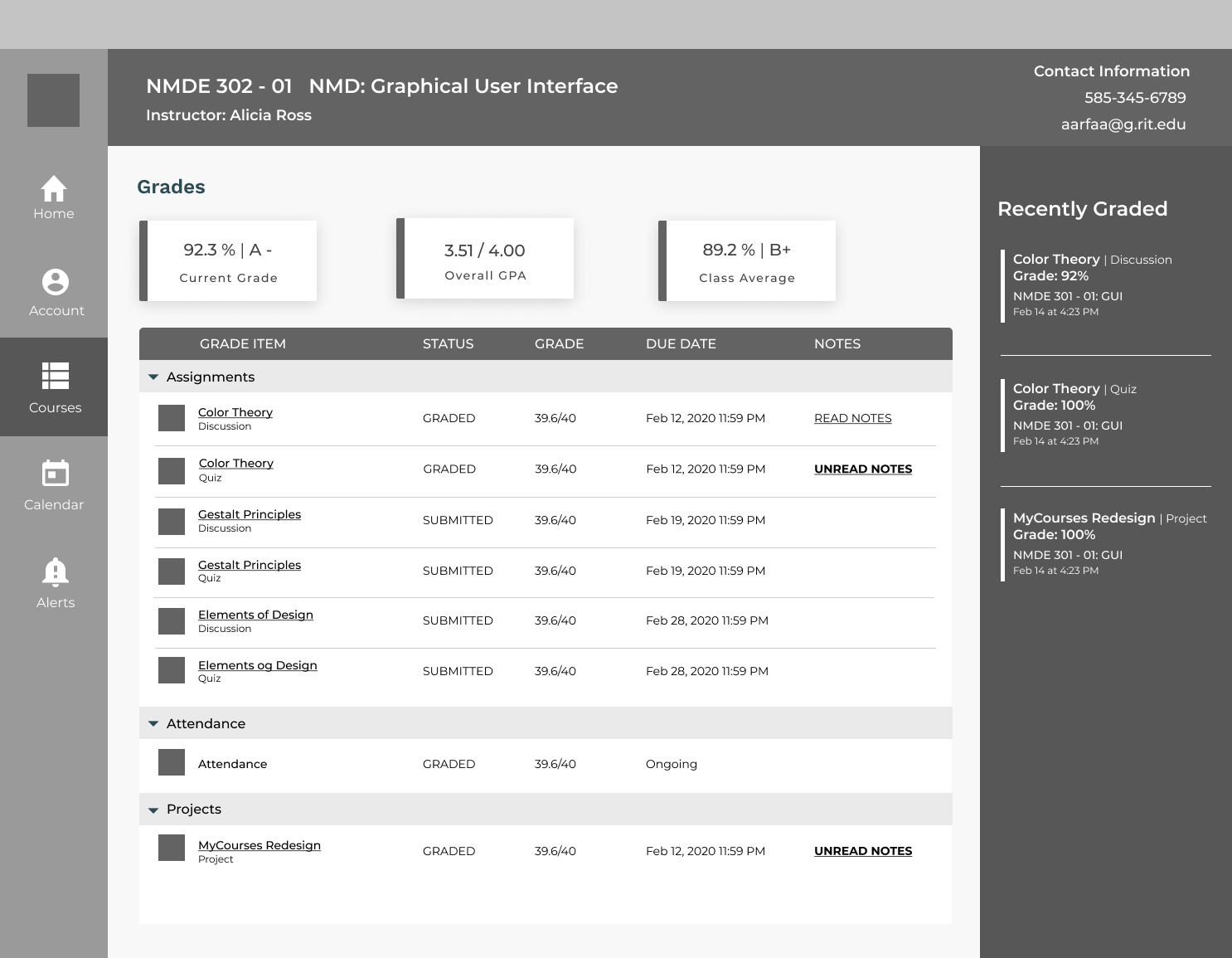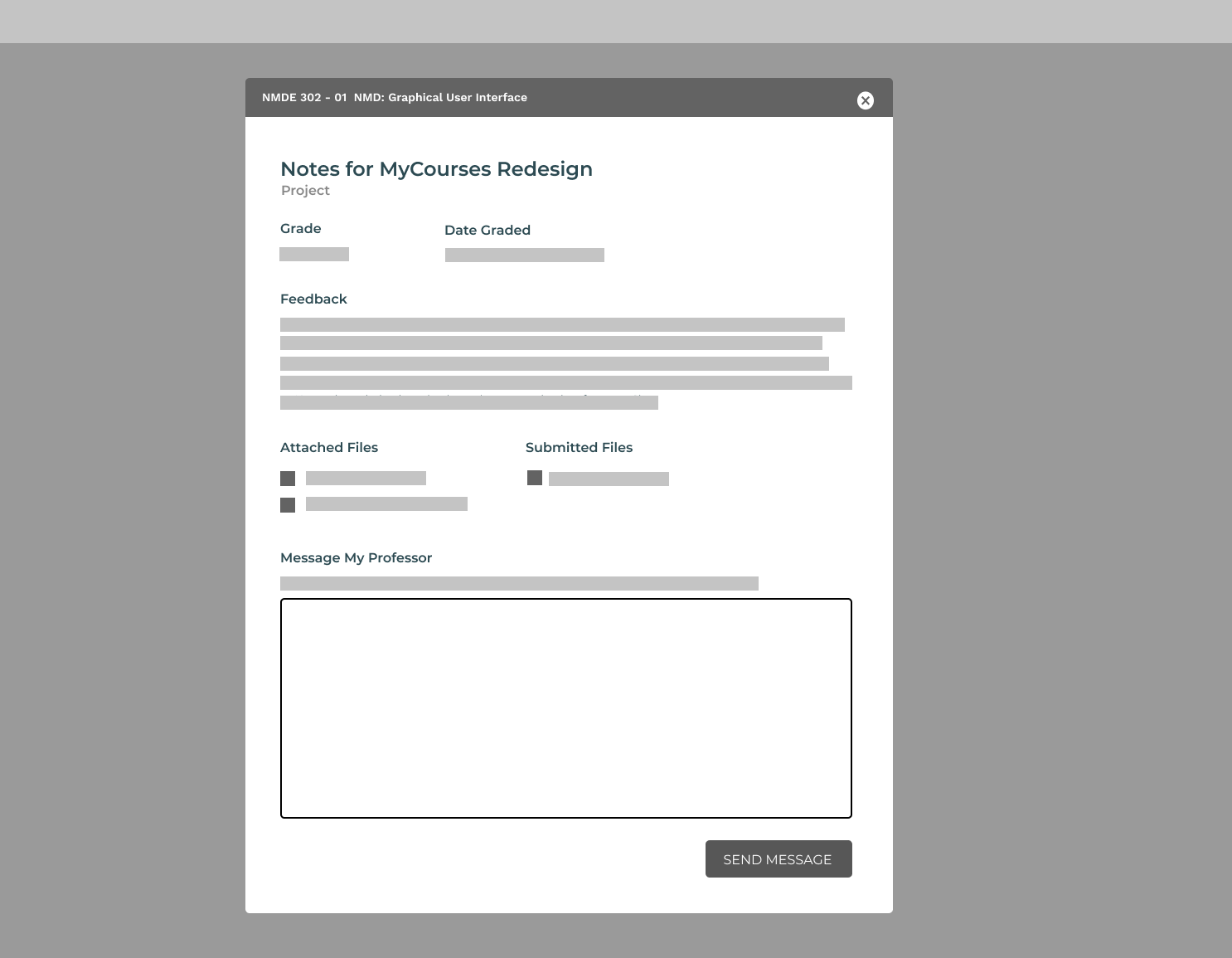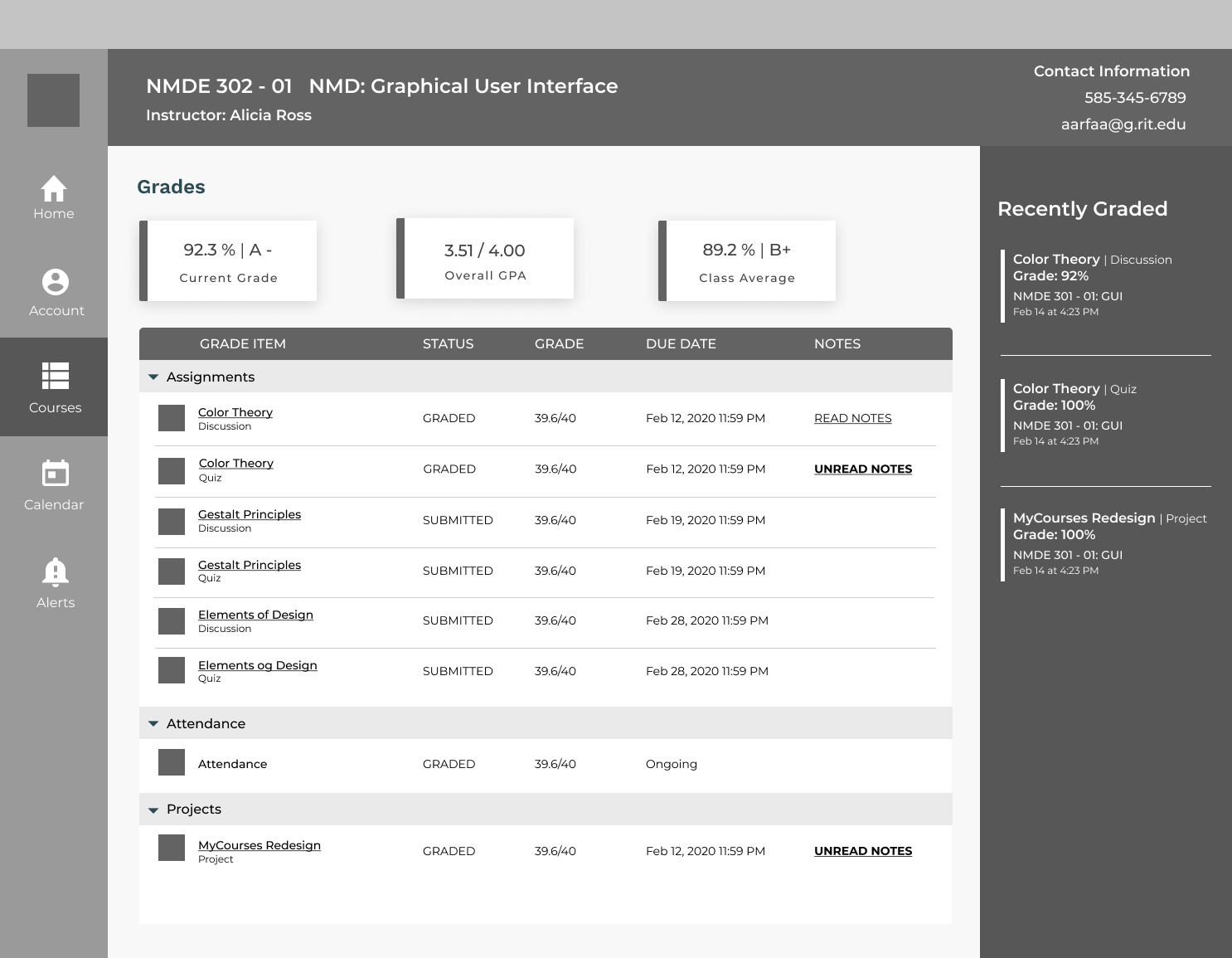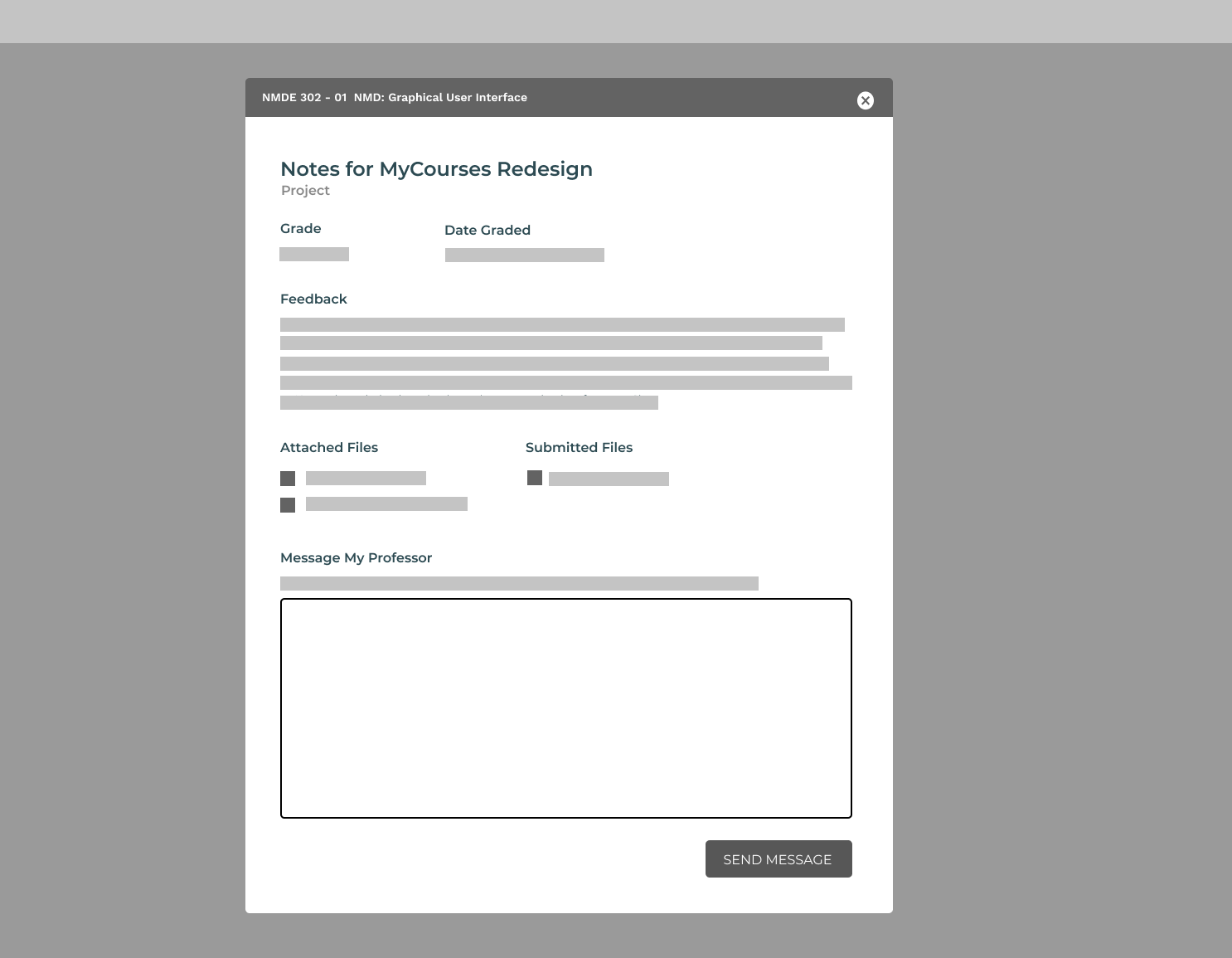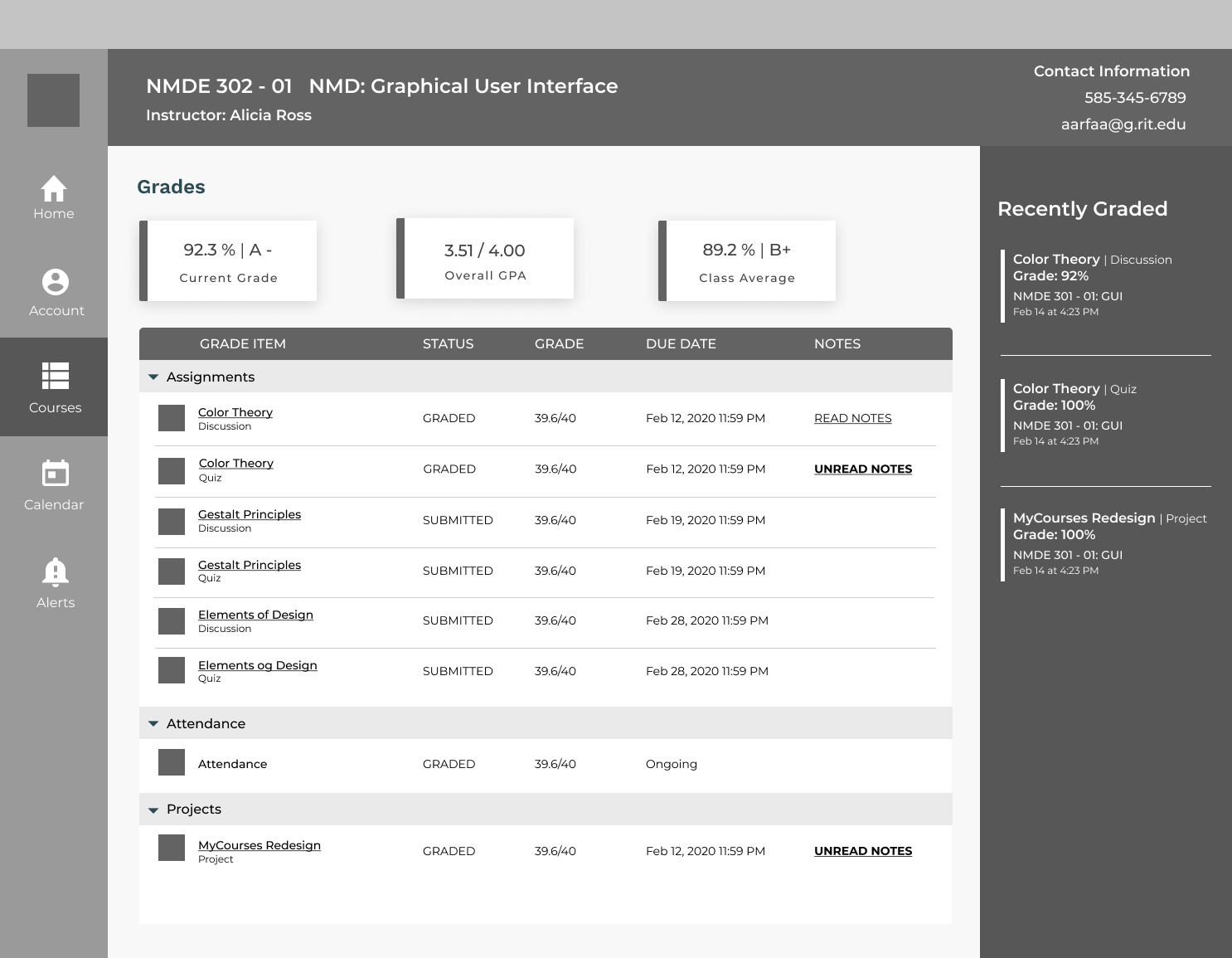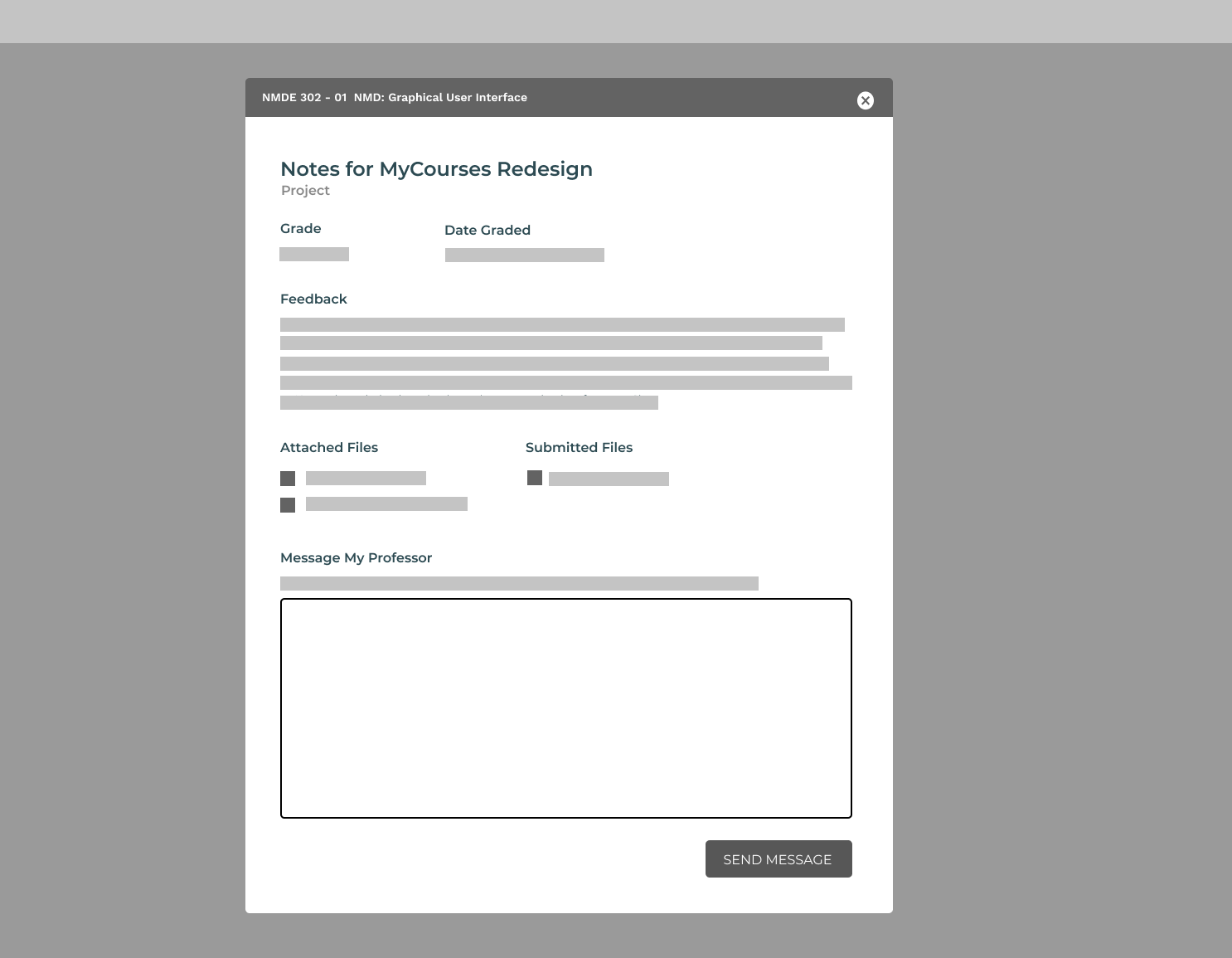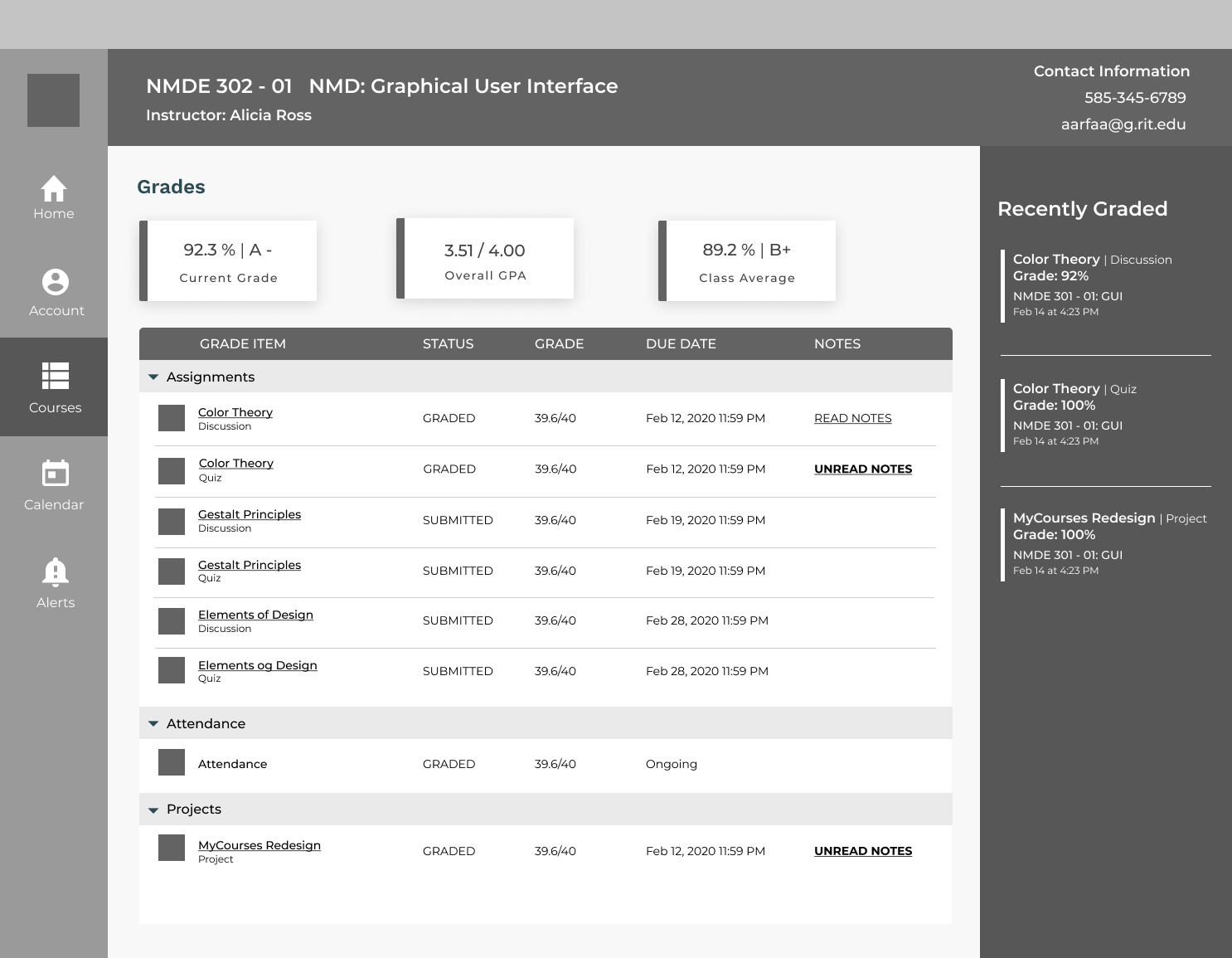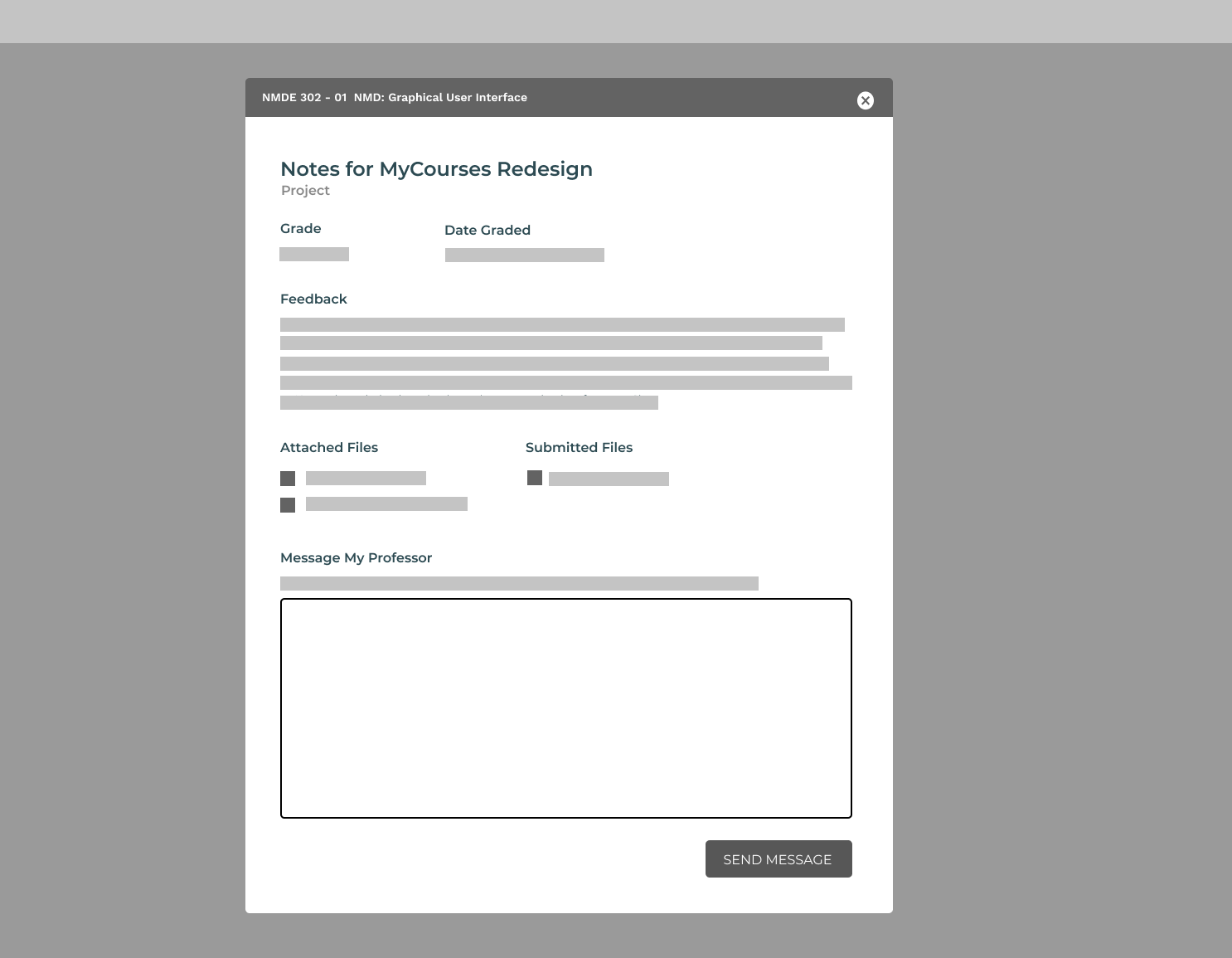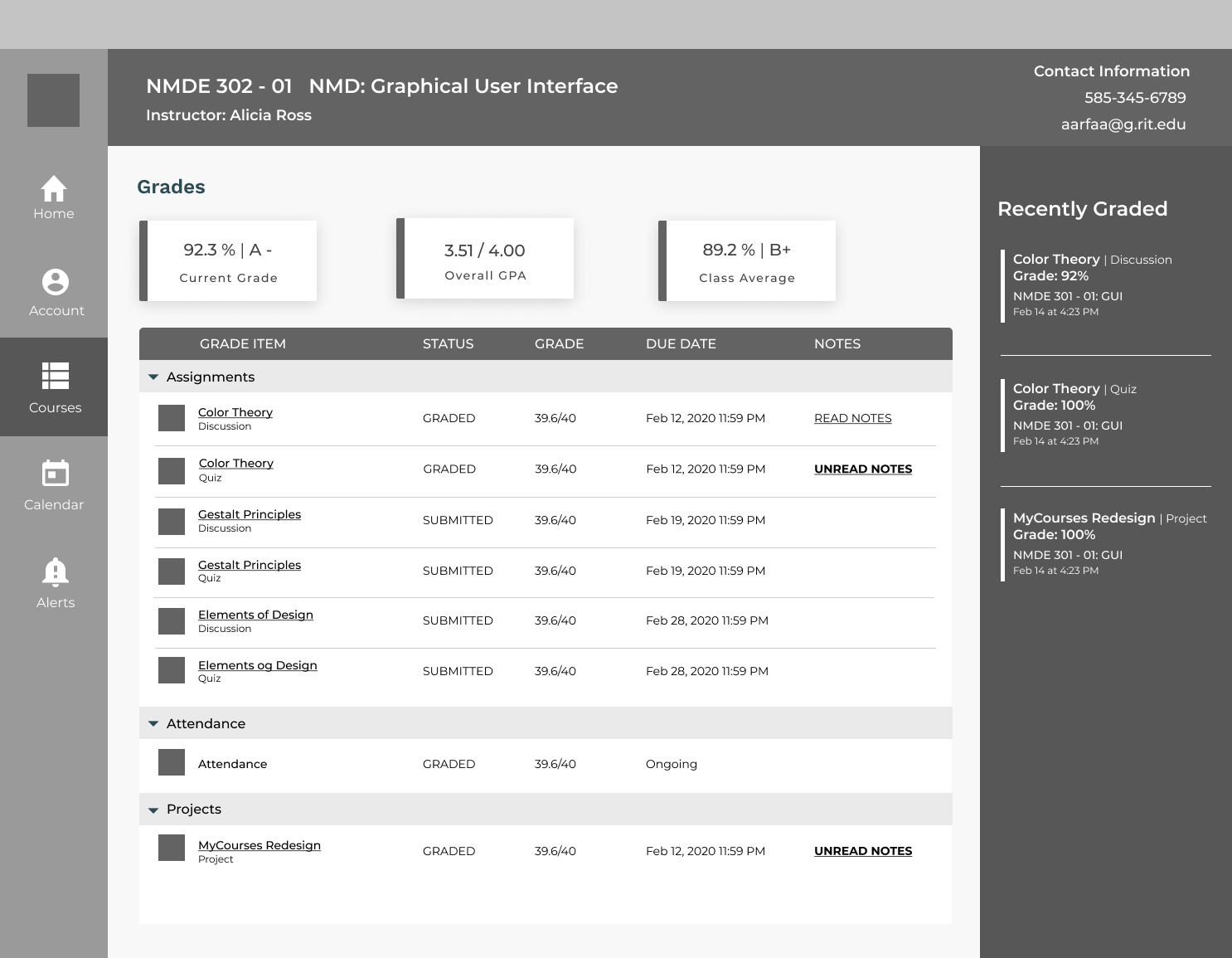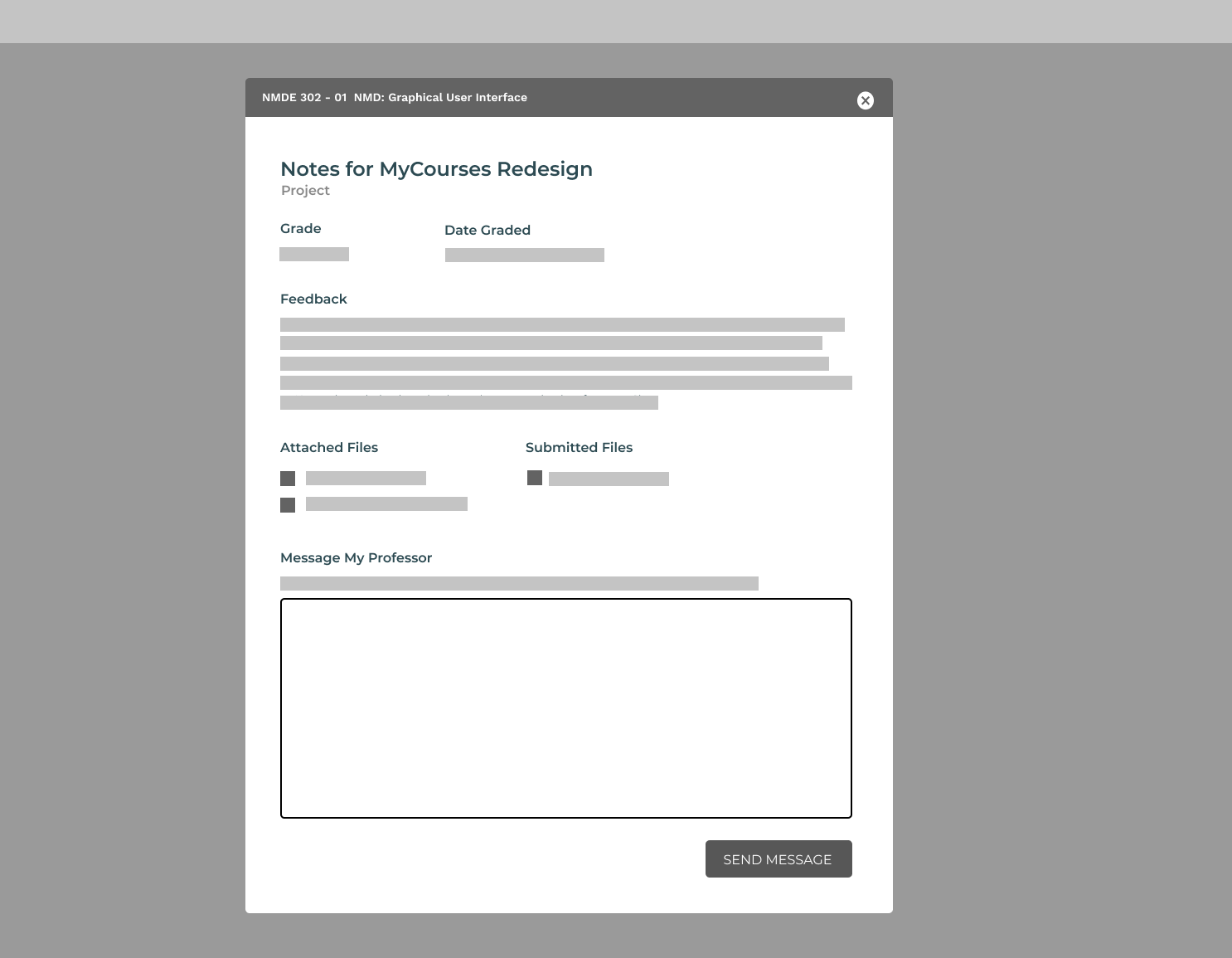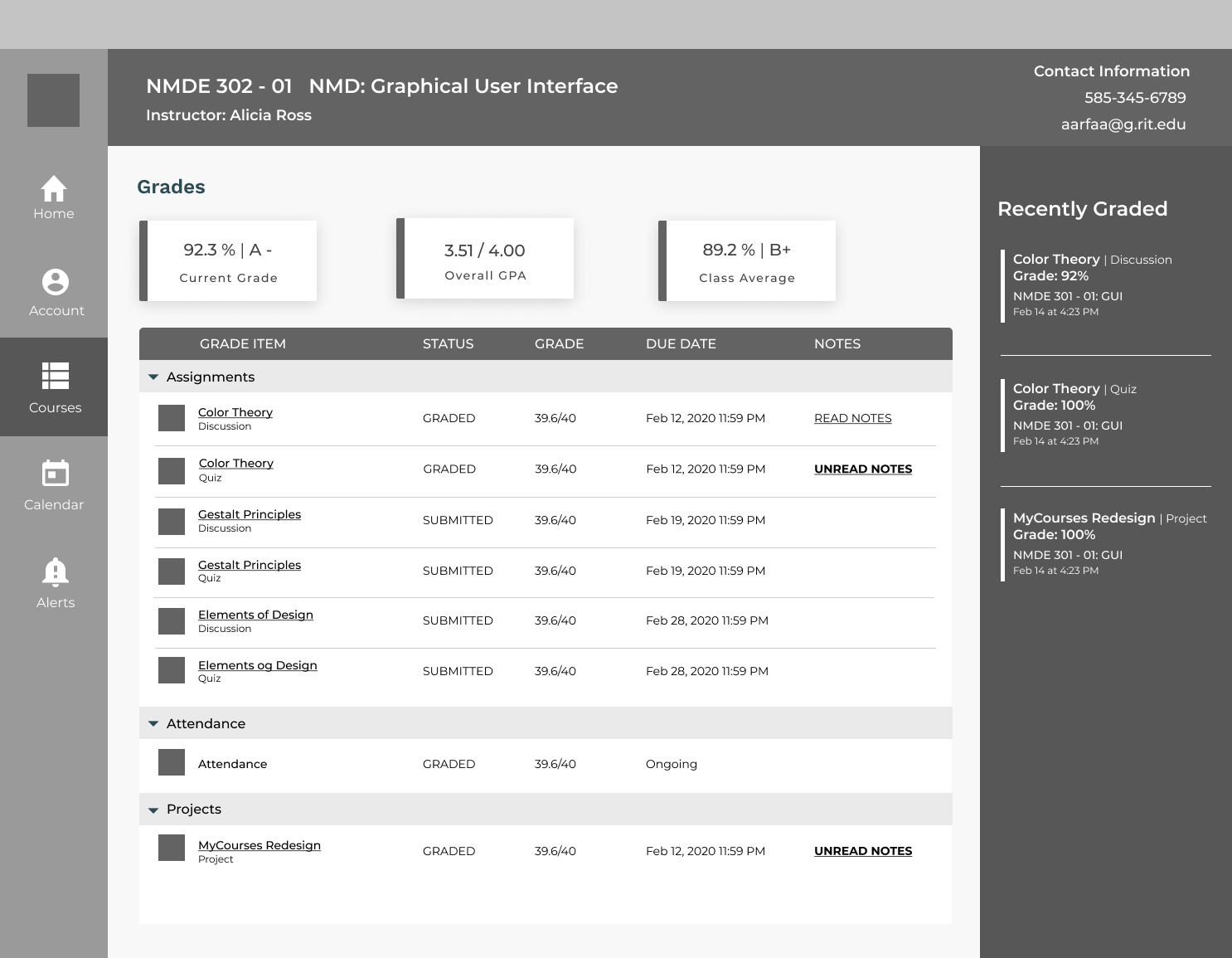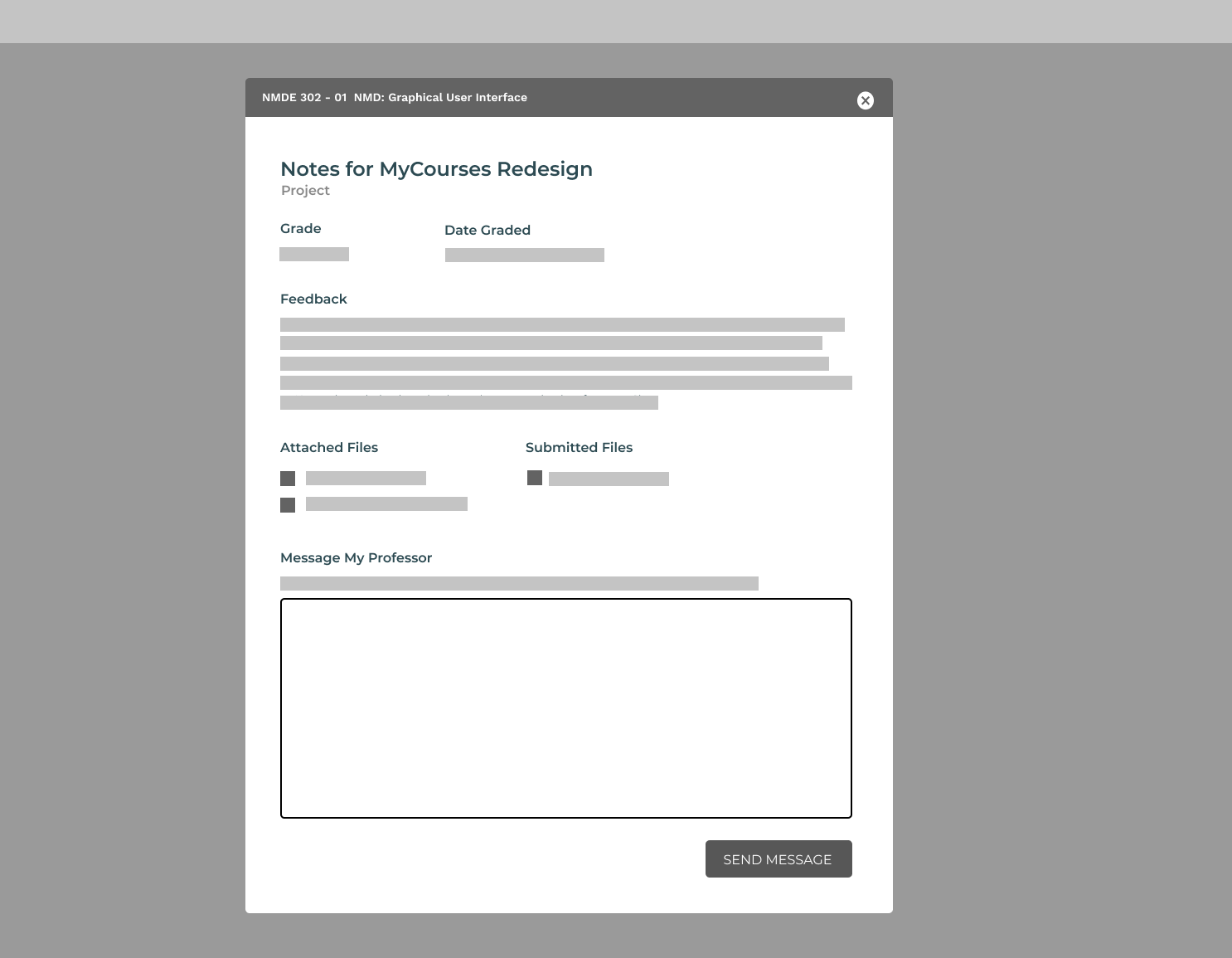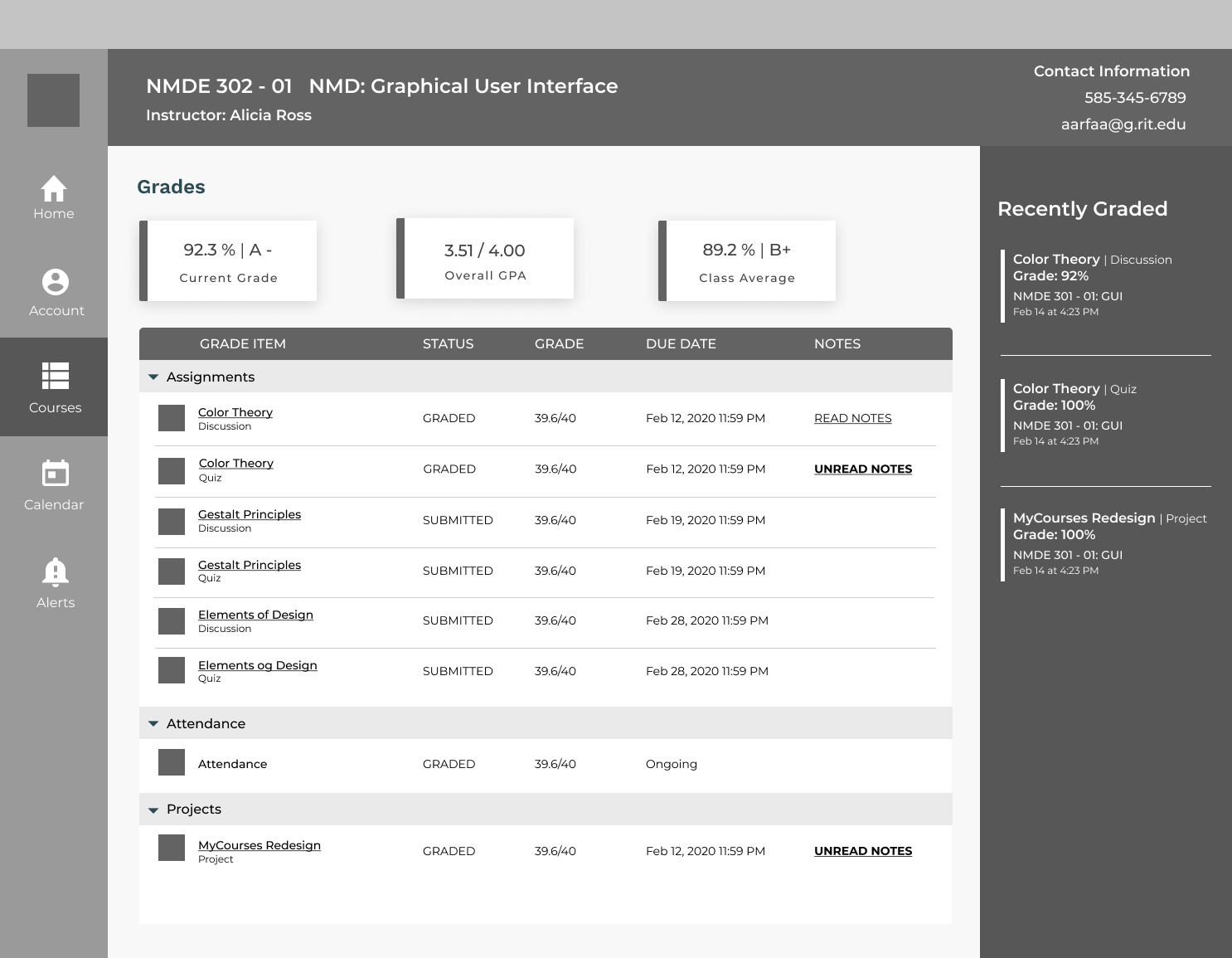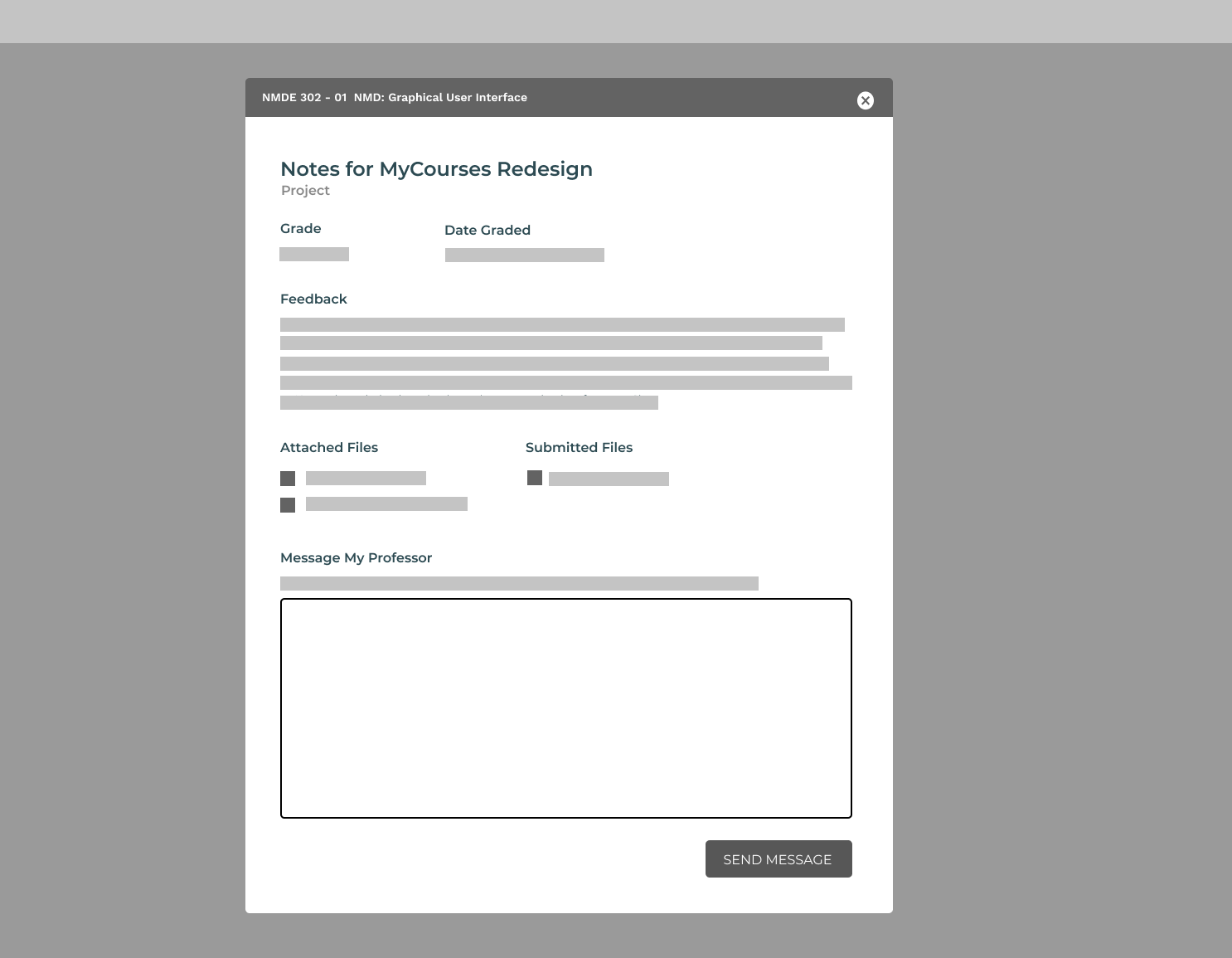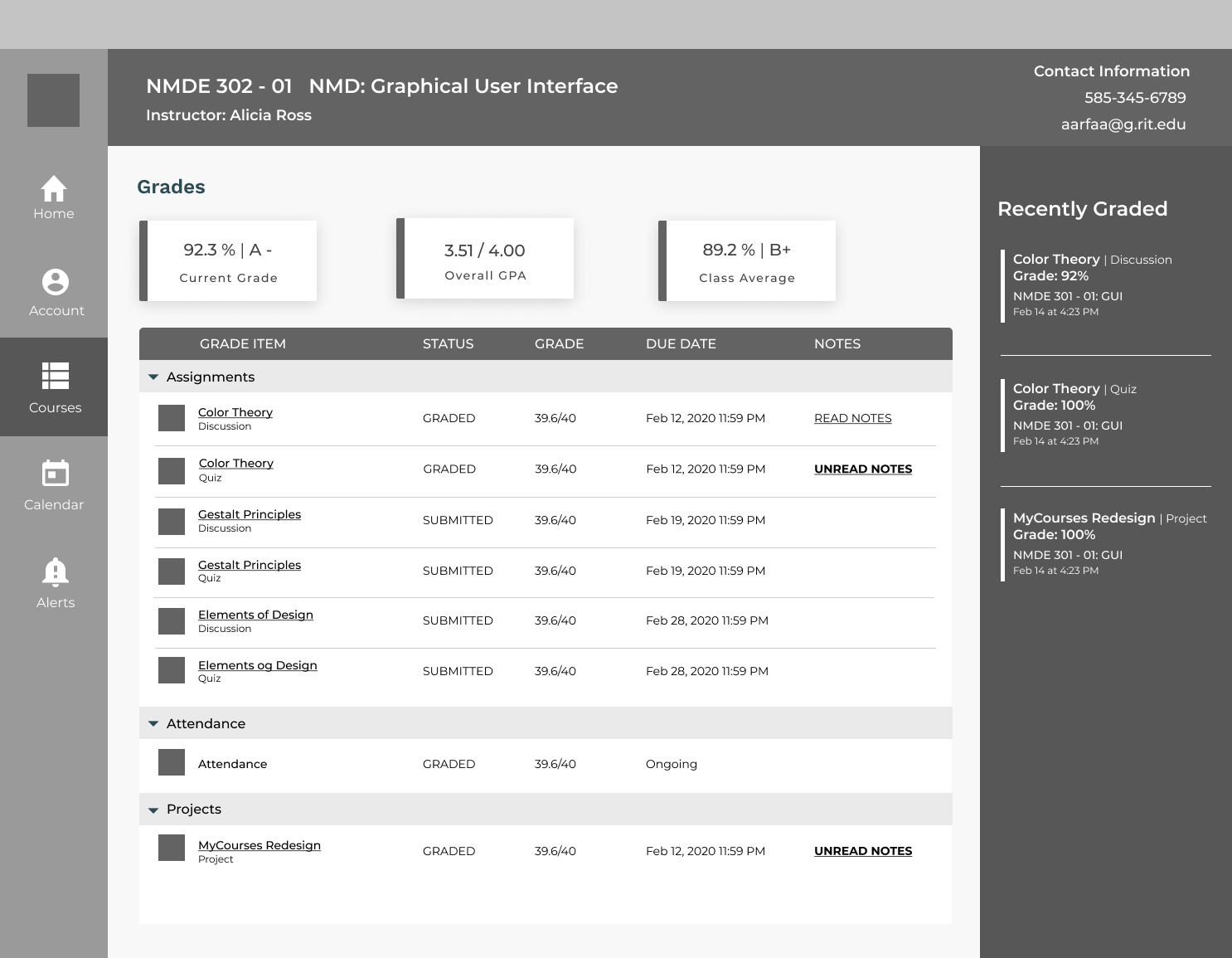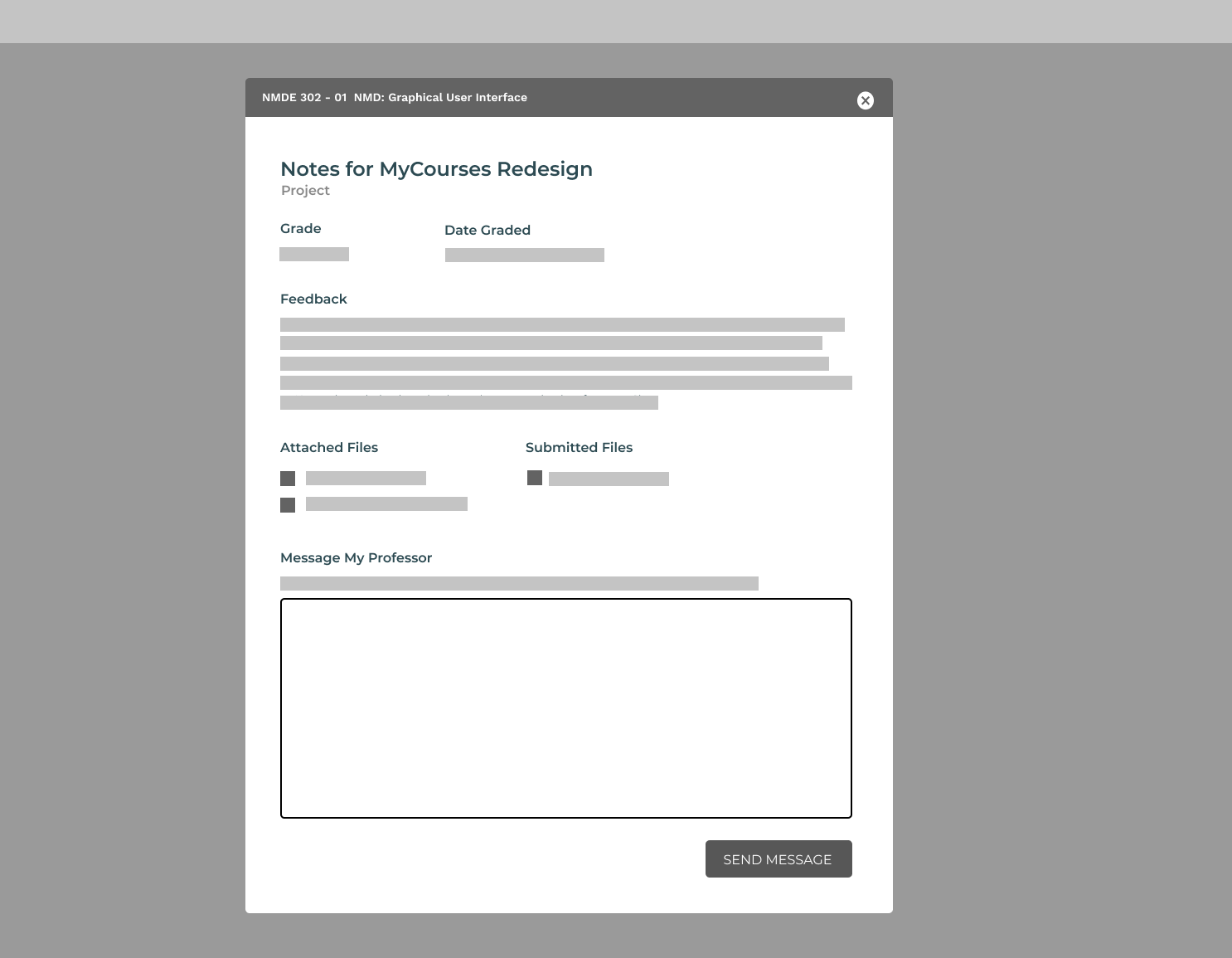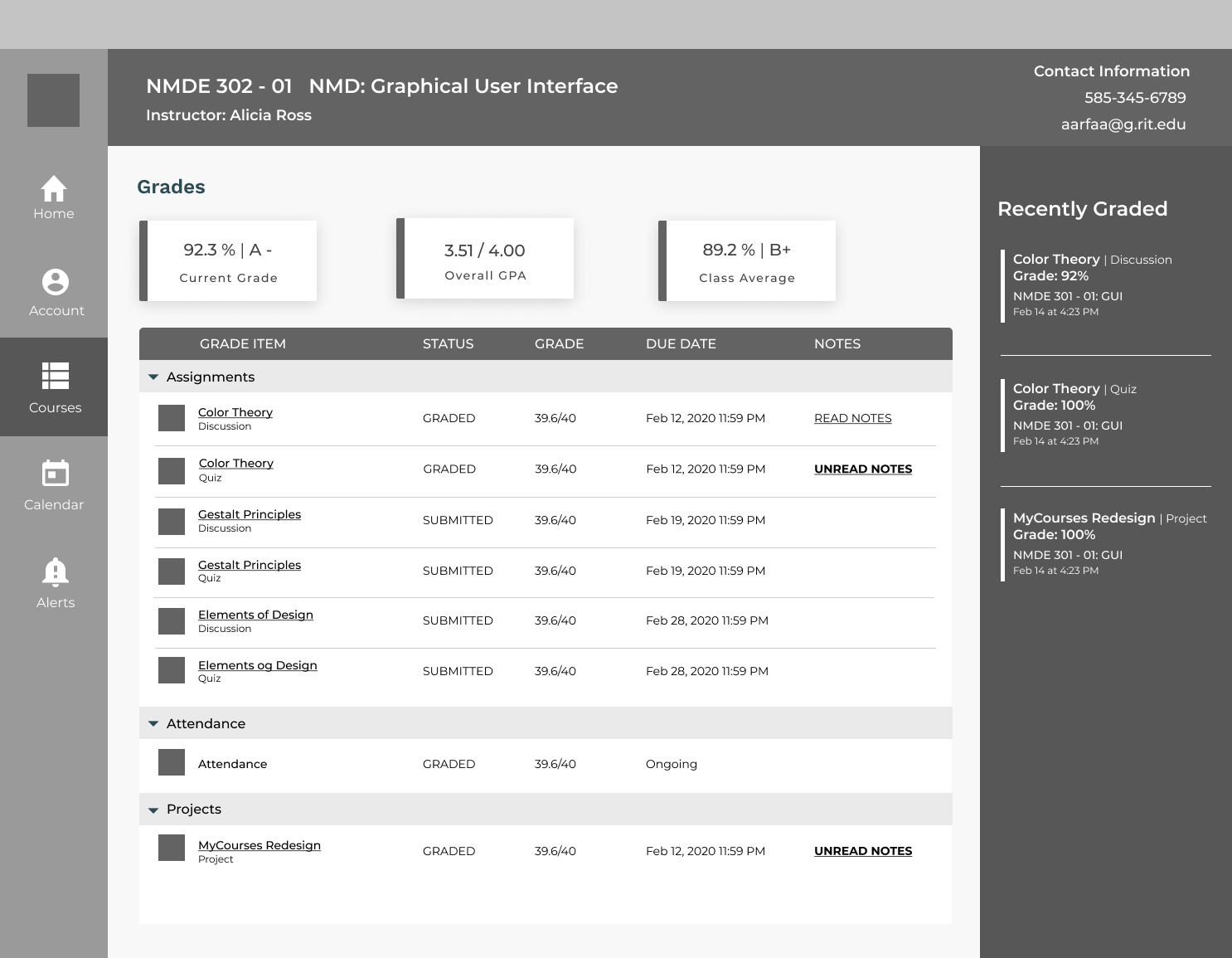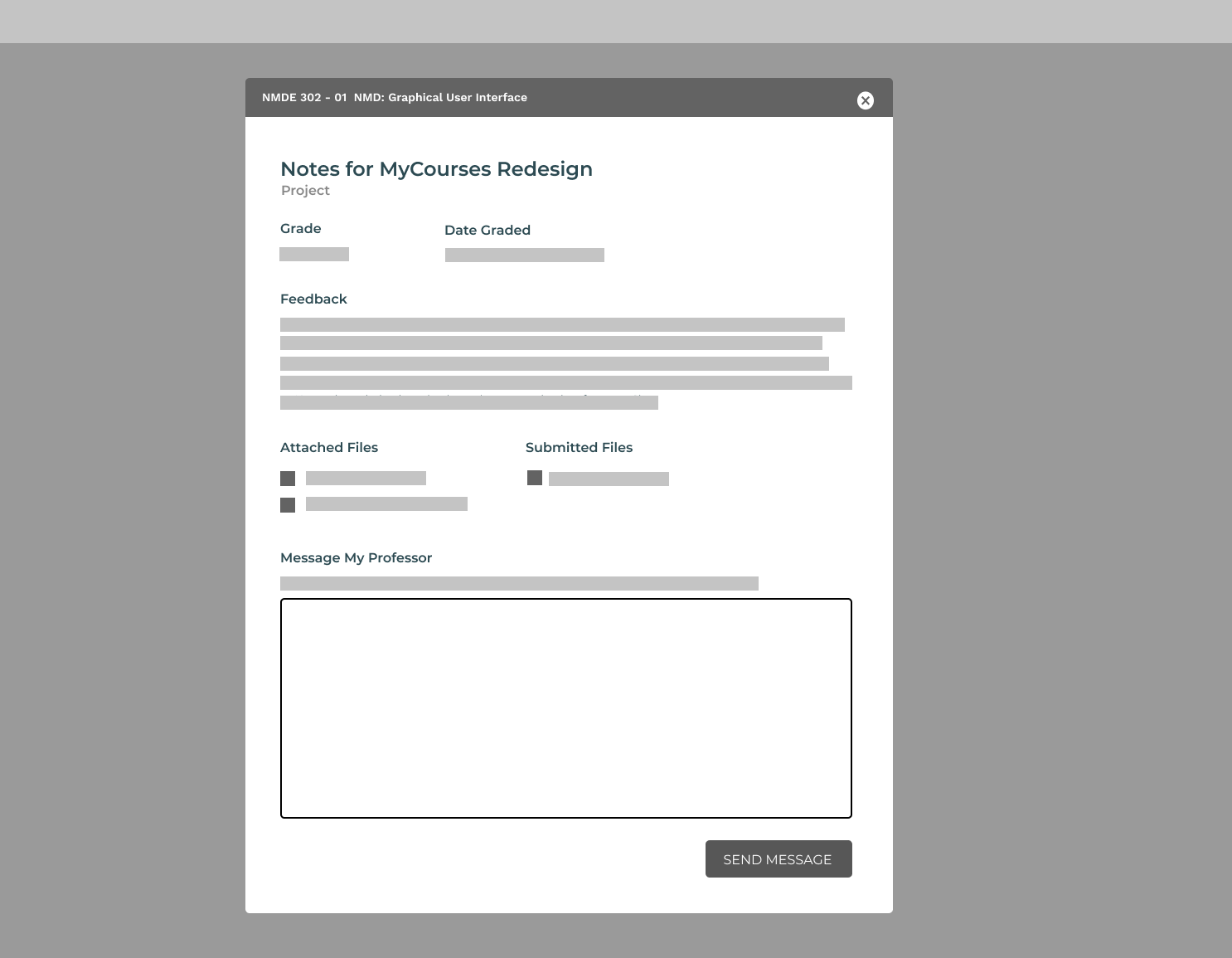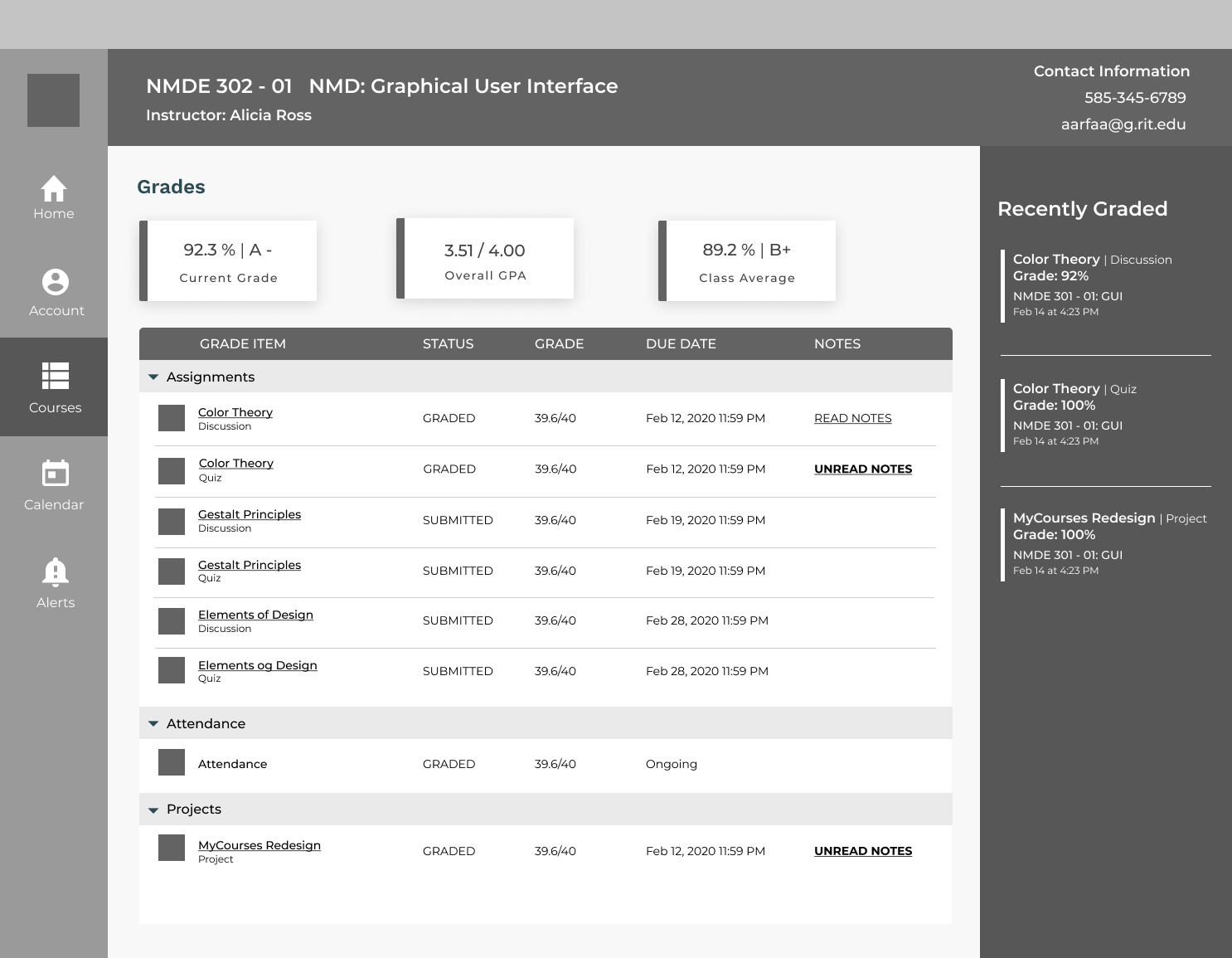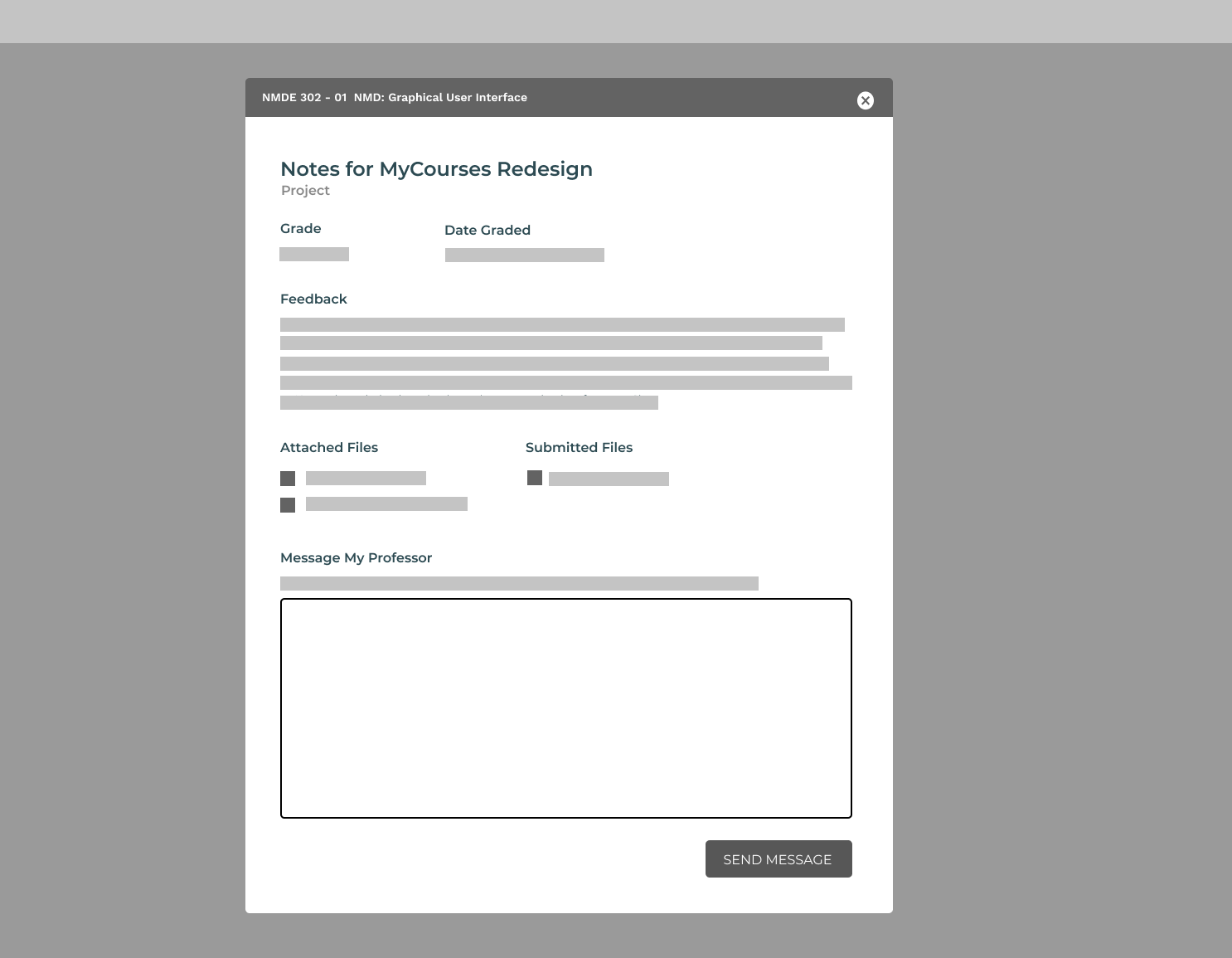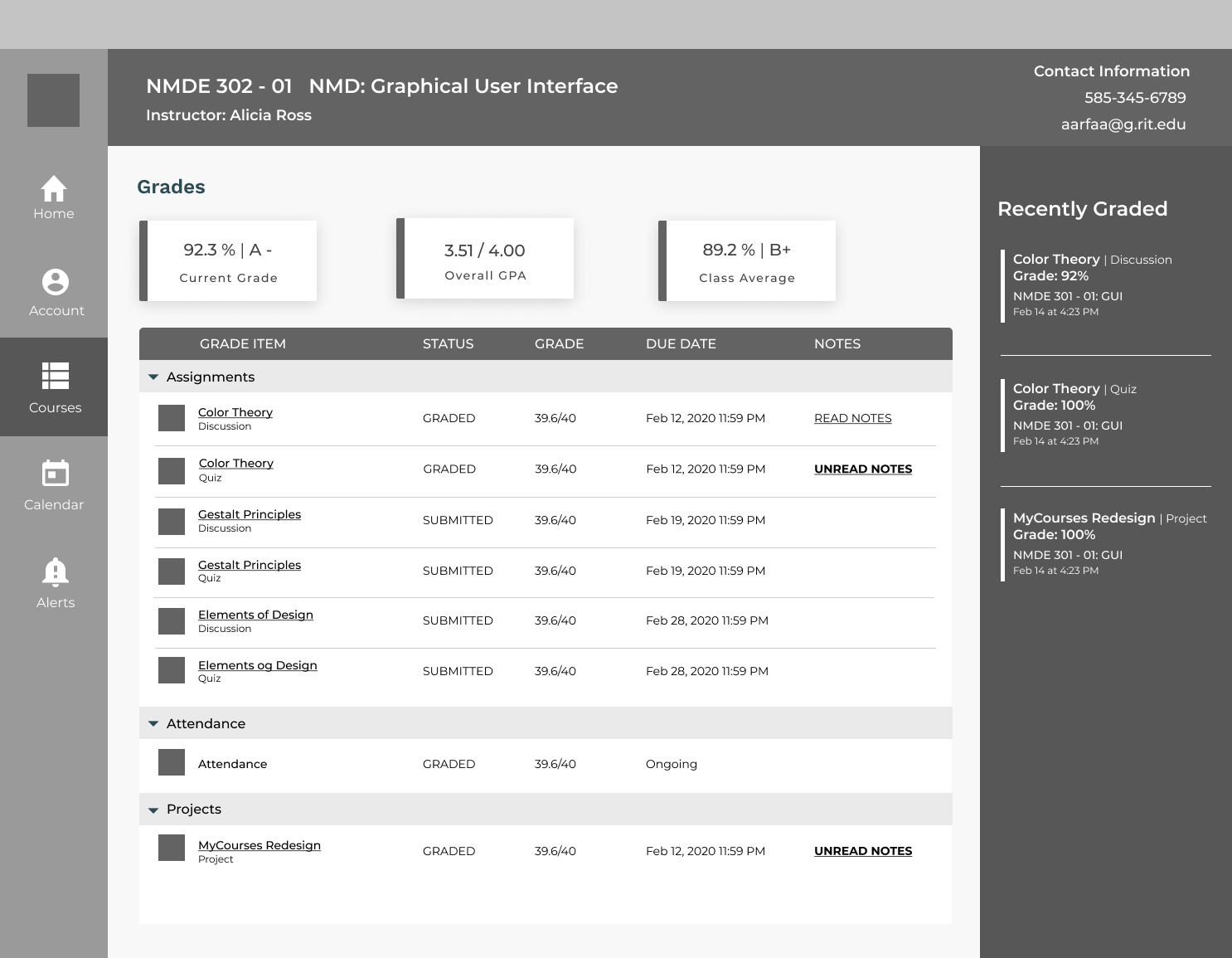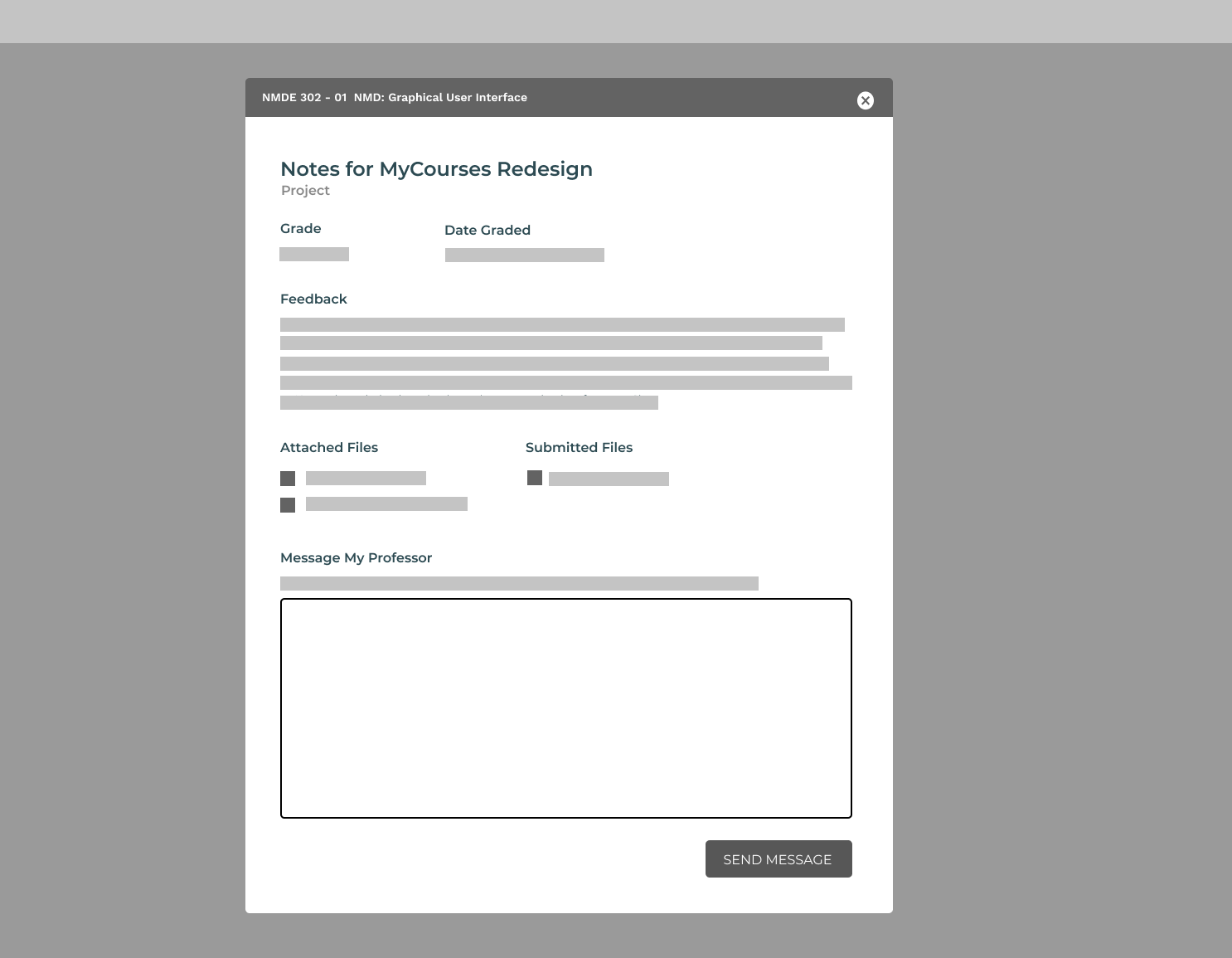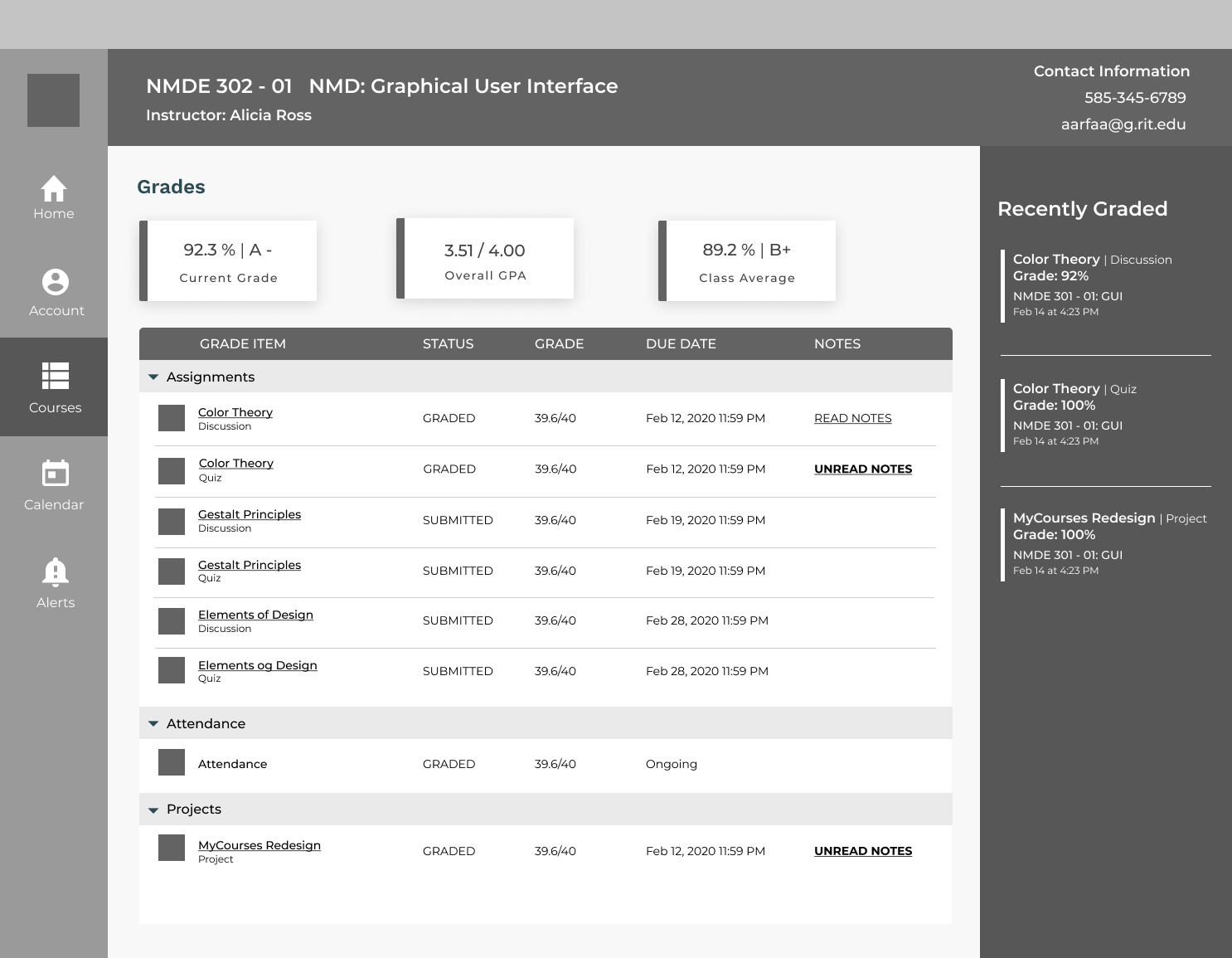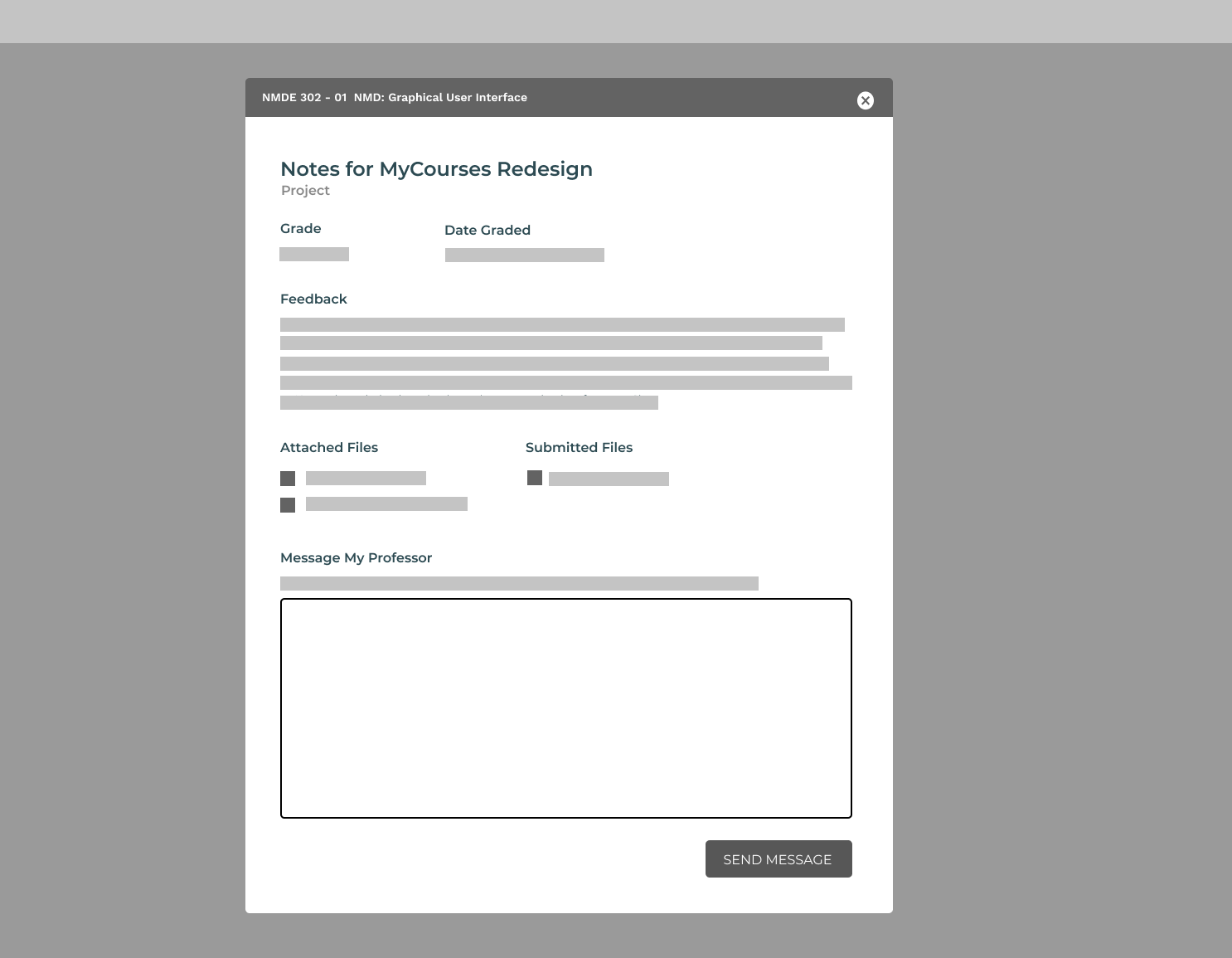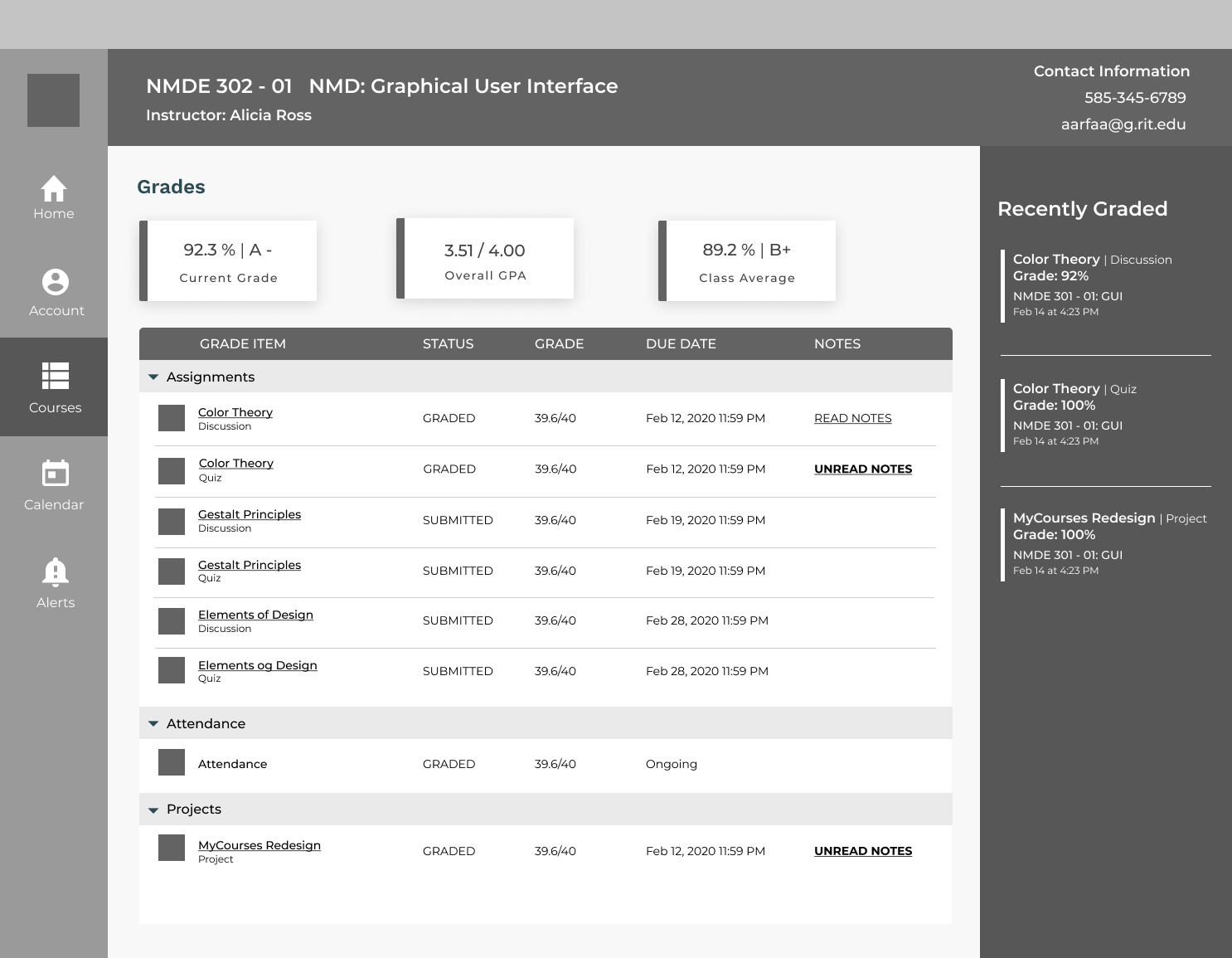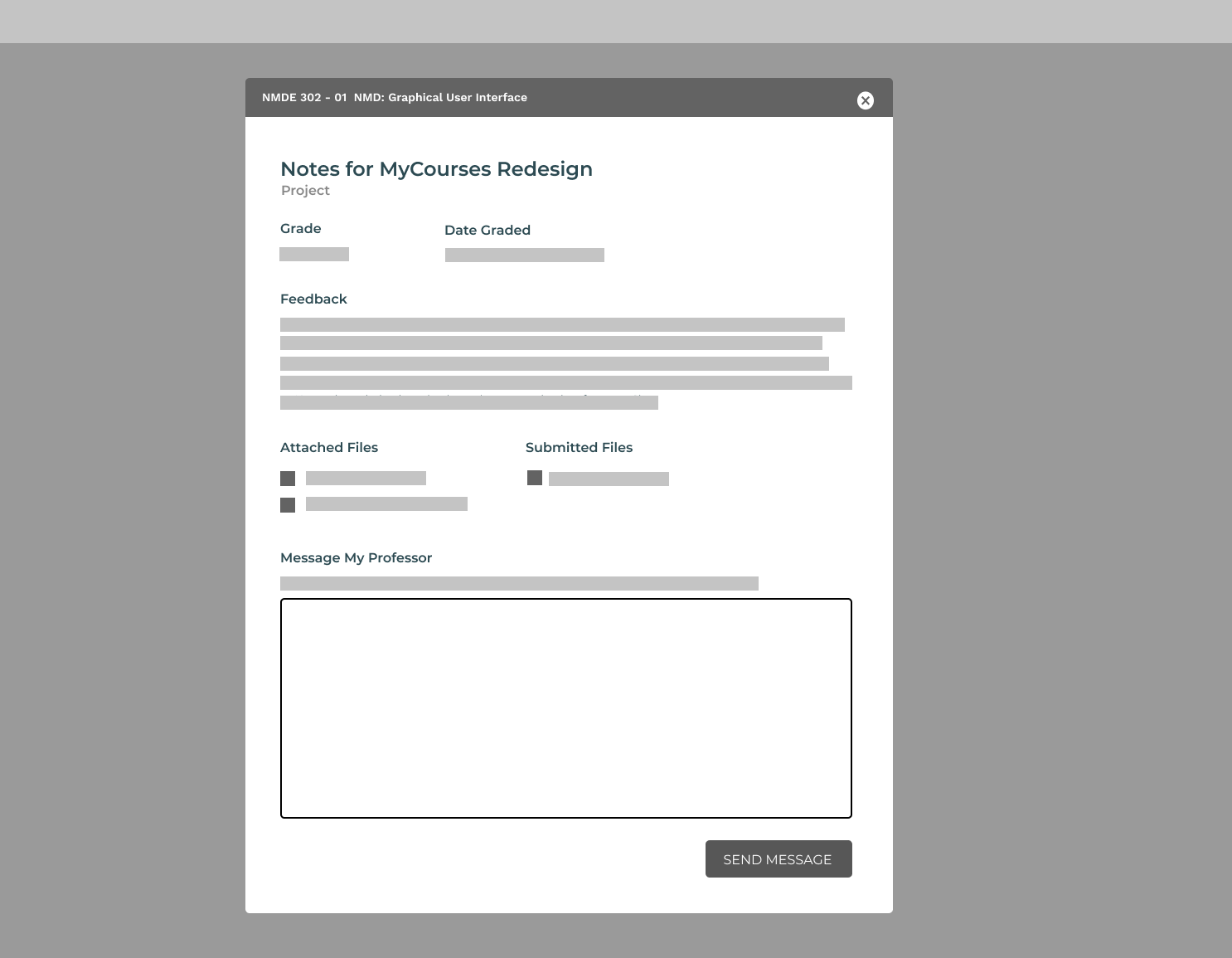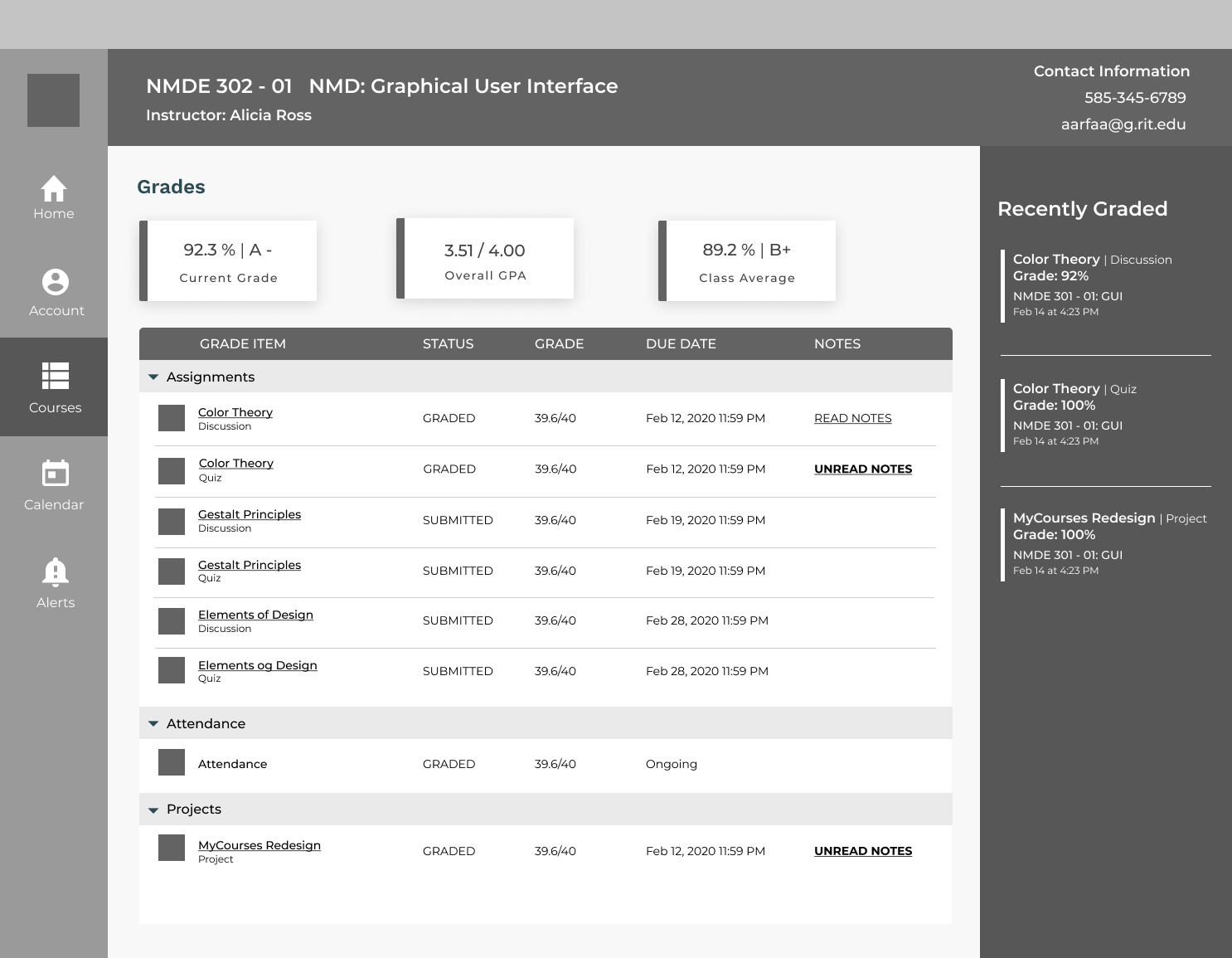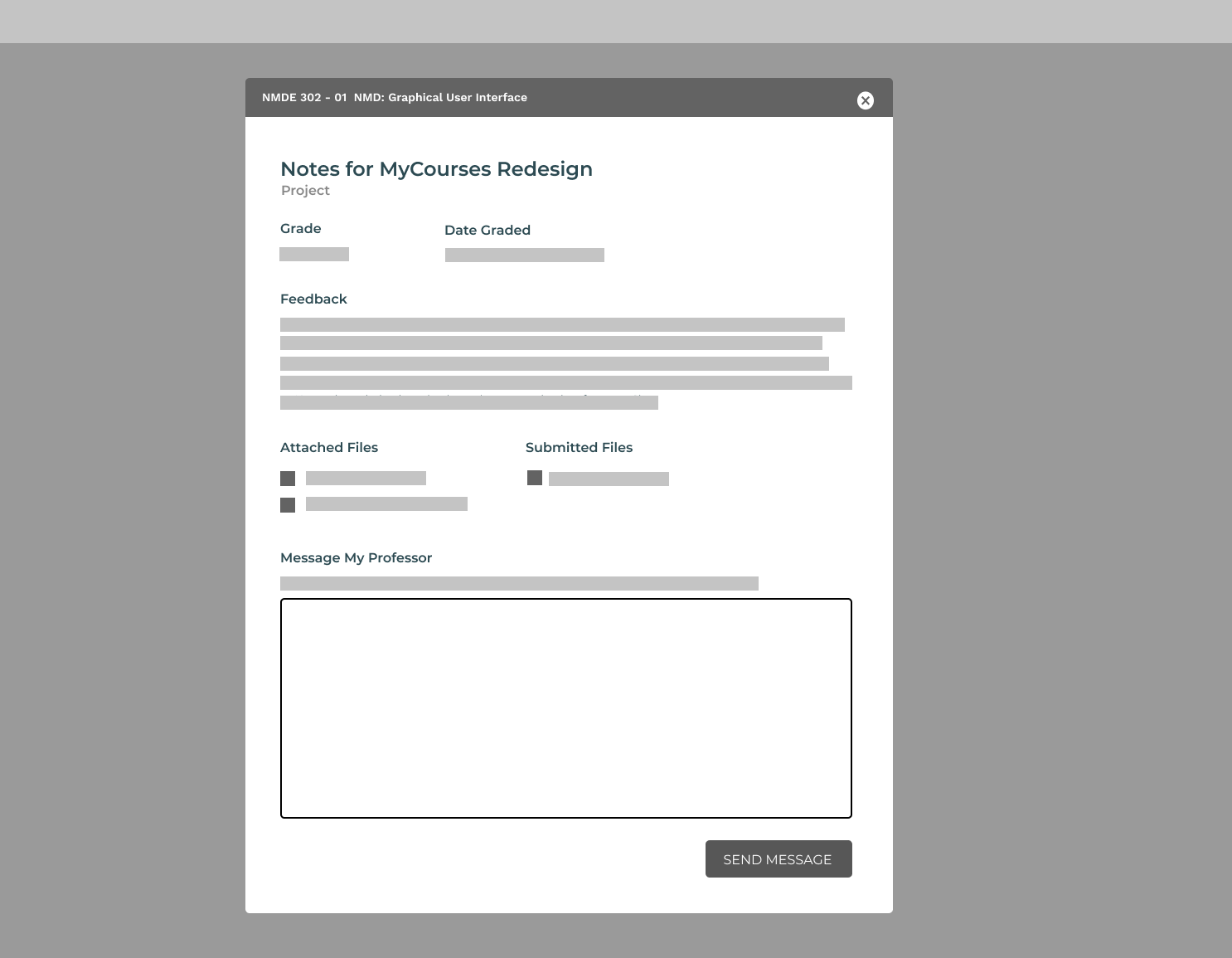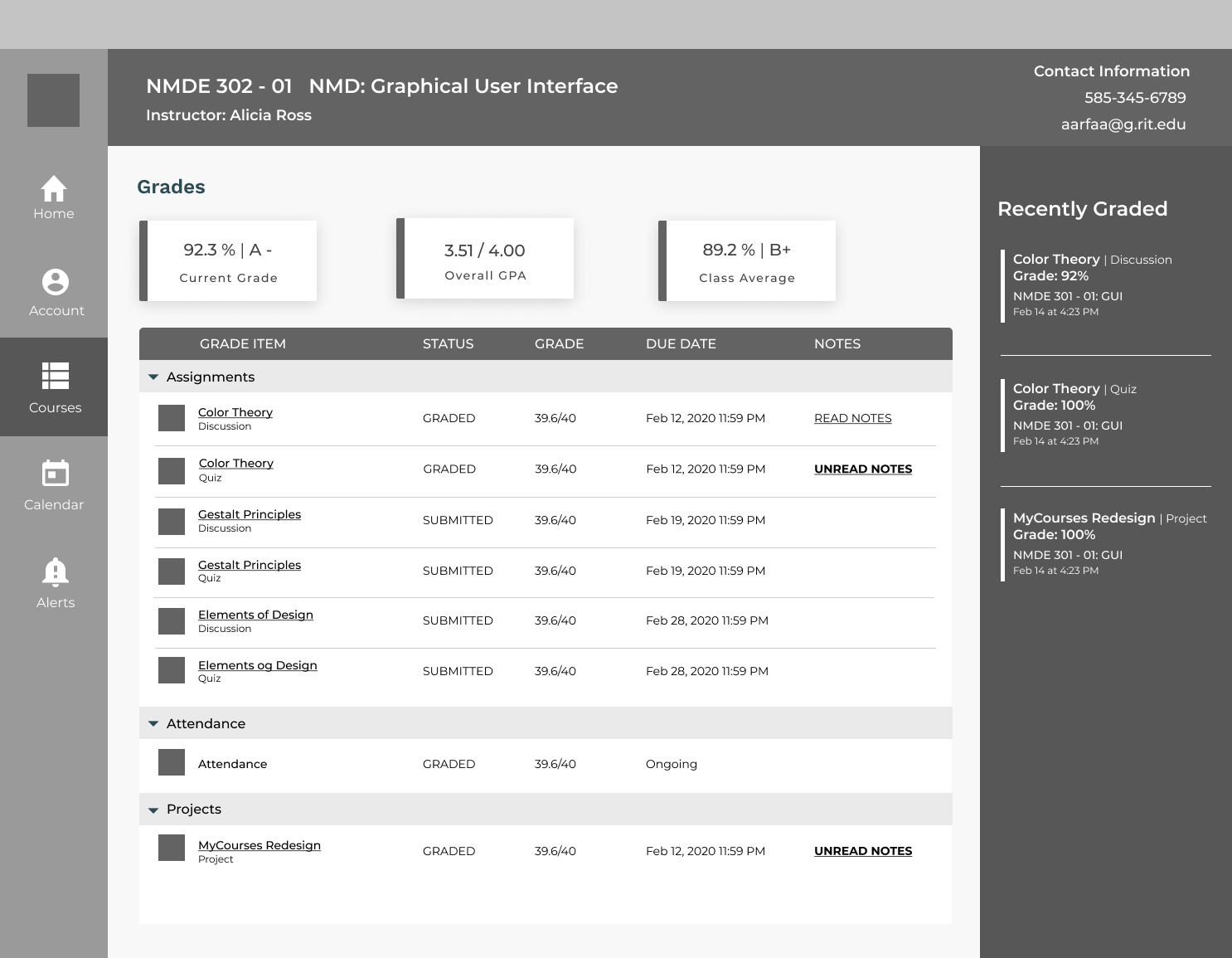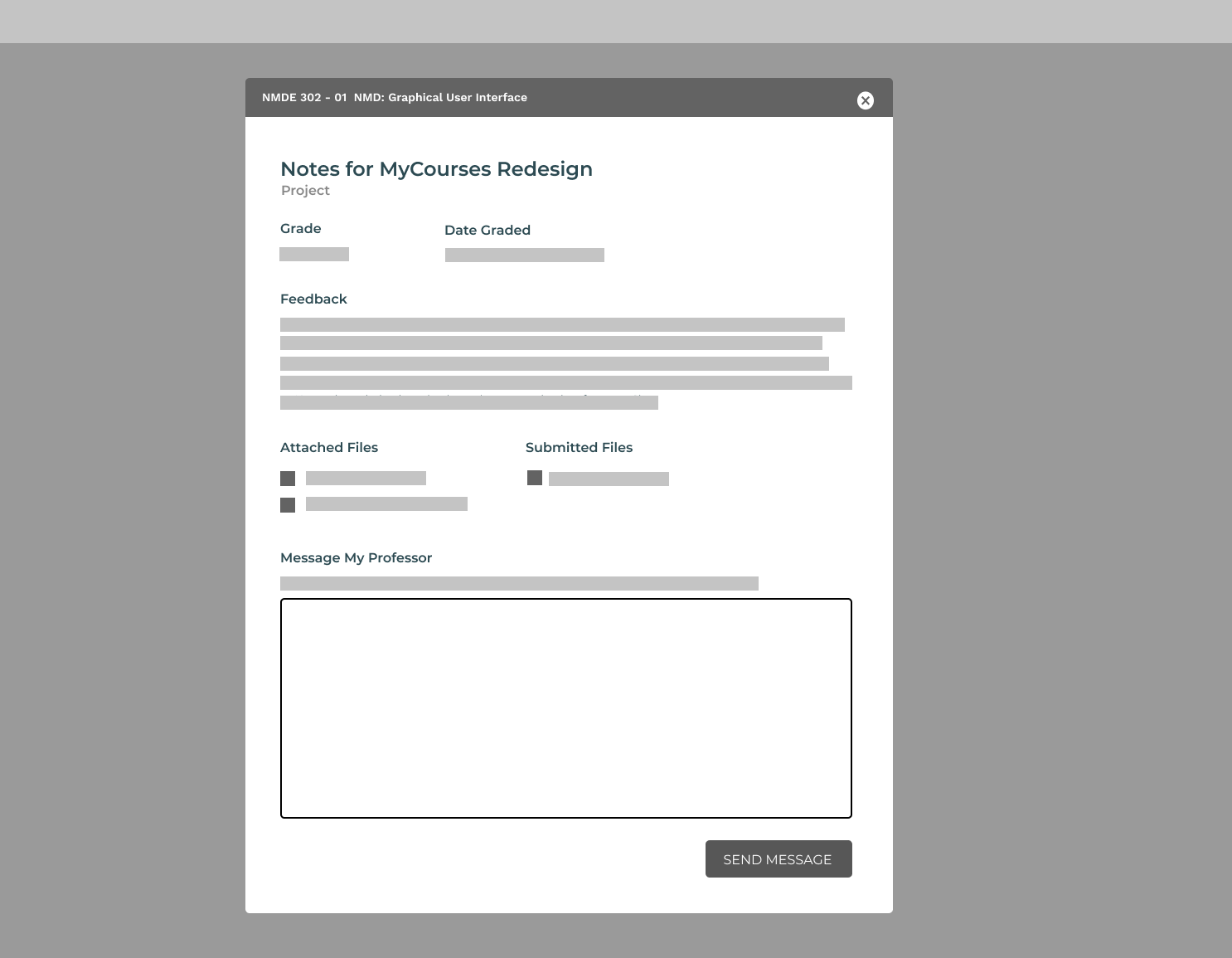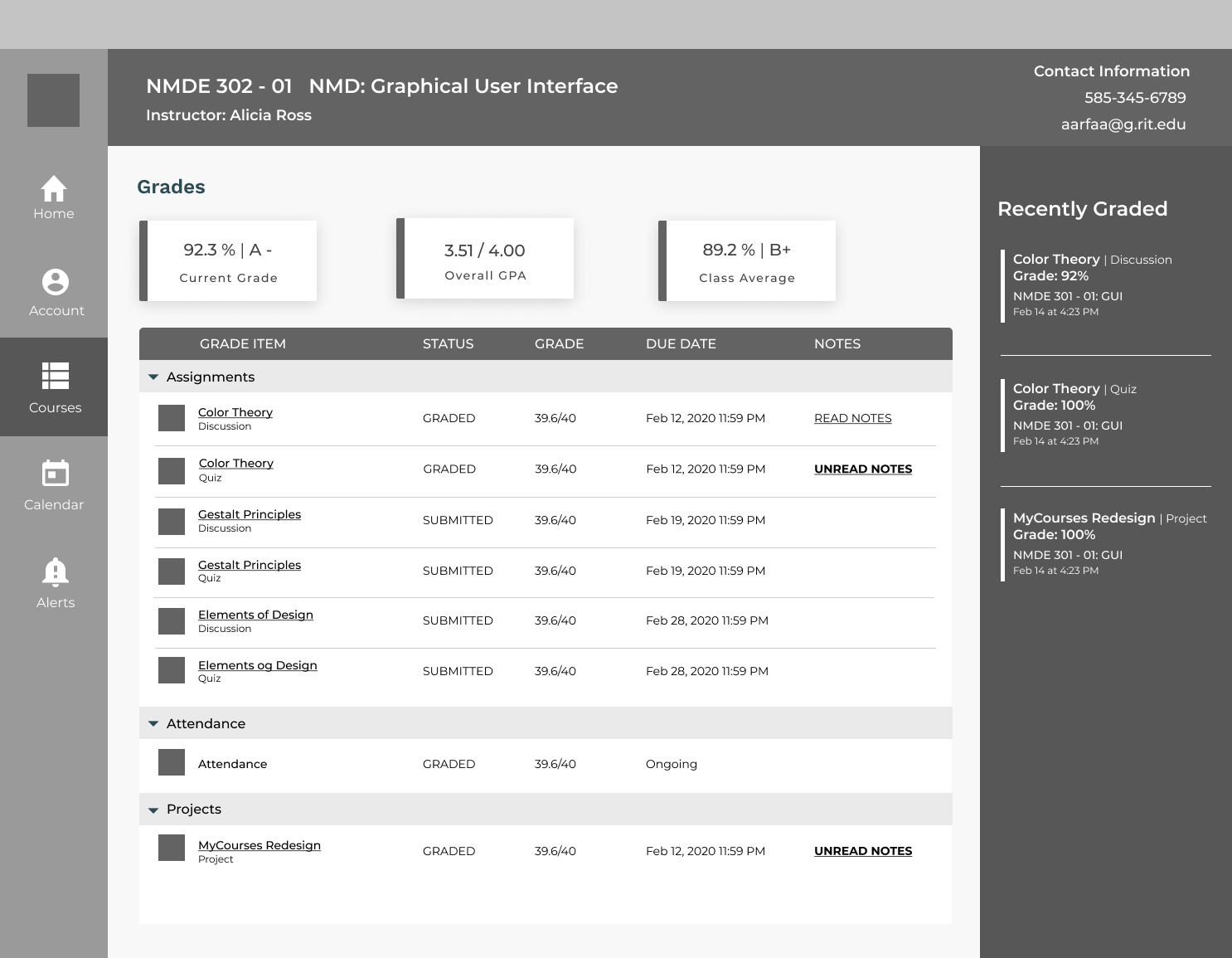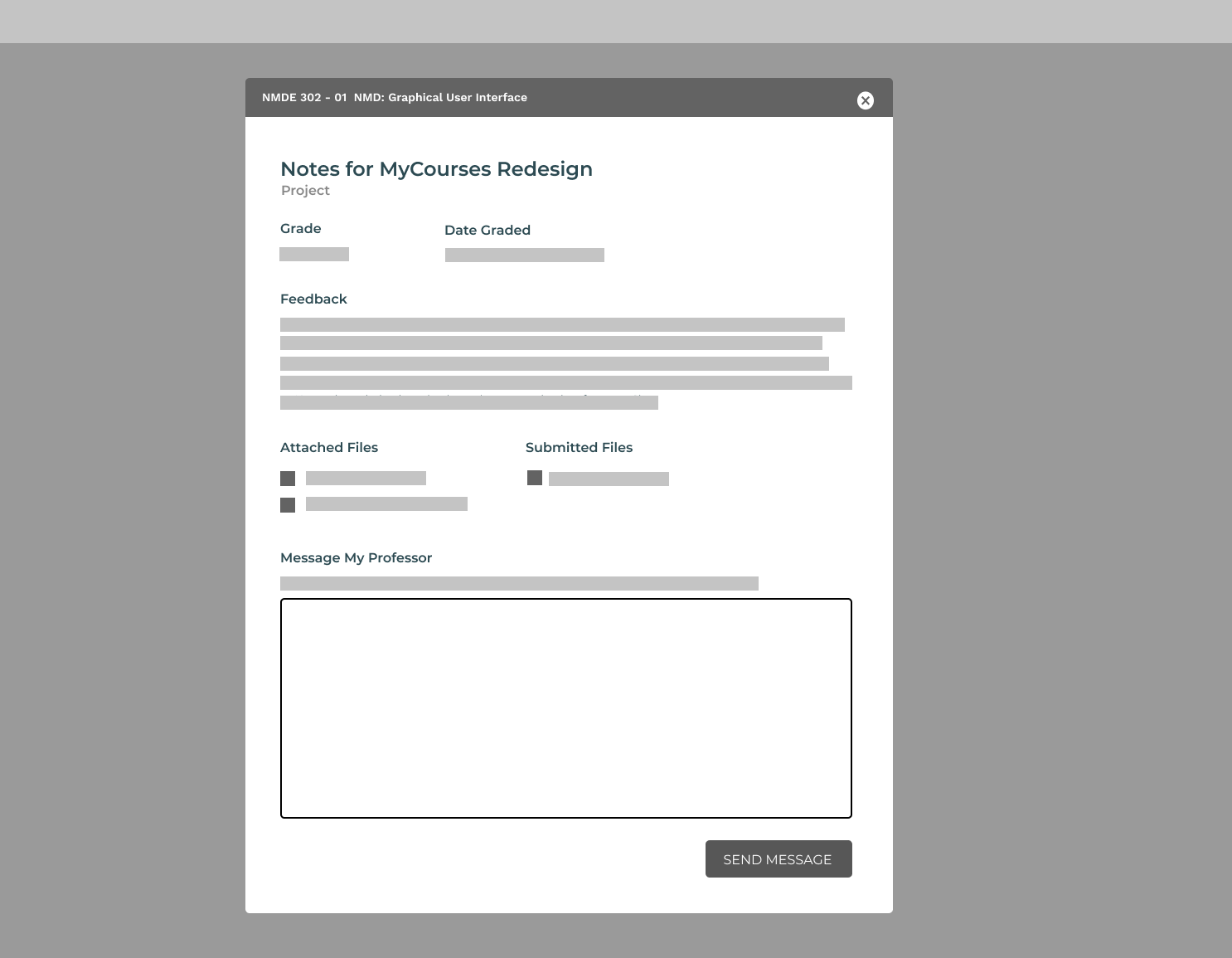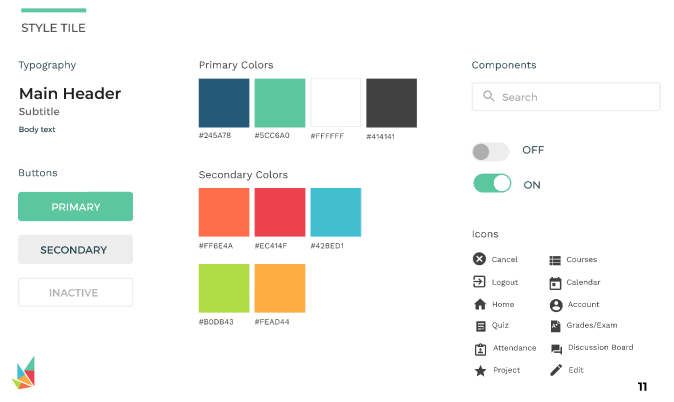 UI Design
Once we ironed out the usability issues, the team moved on to creating a pleasant and engaging user interface design. We decide to take on a fresh and colorful approach that would contrast with the white void of the current system. We were inspired by a material design approach but took a unique spin on it. Students use myCourses often and this design uses pops of color to make the experience fun and not as taxing on the eyes when returning to the website.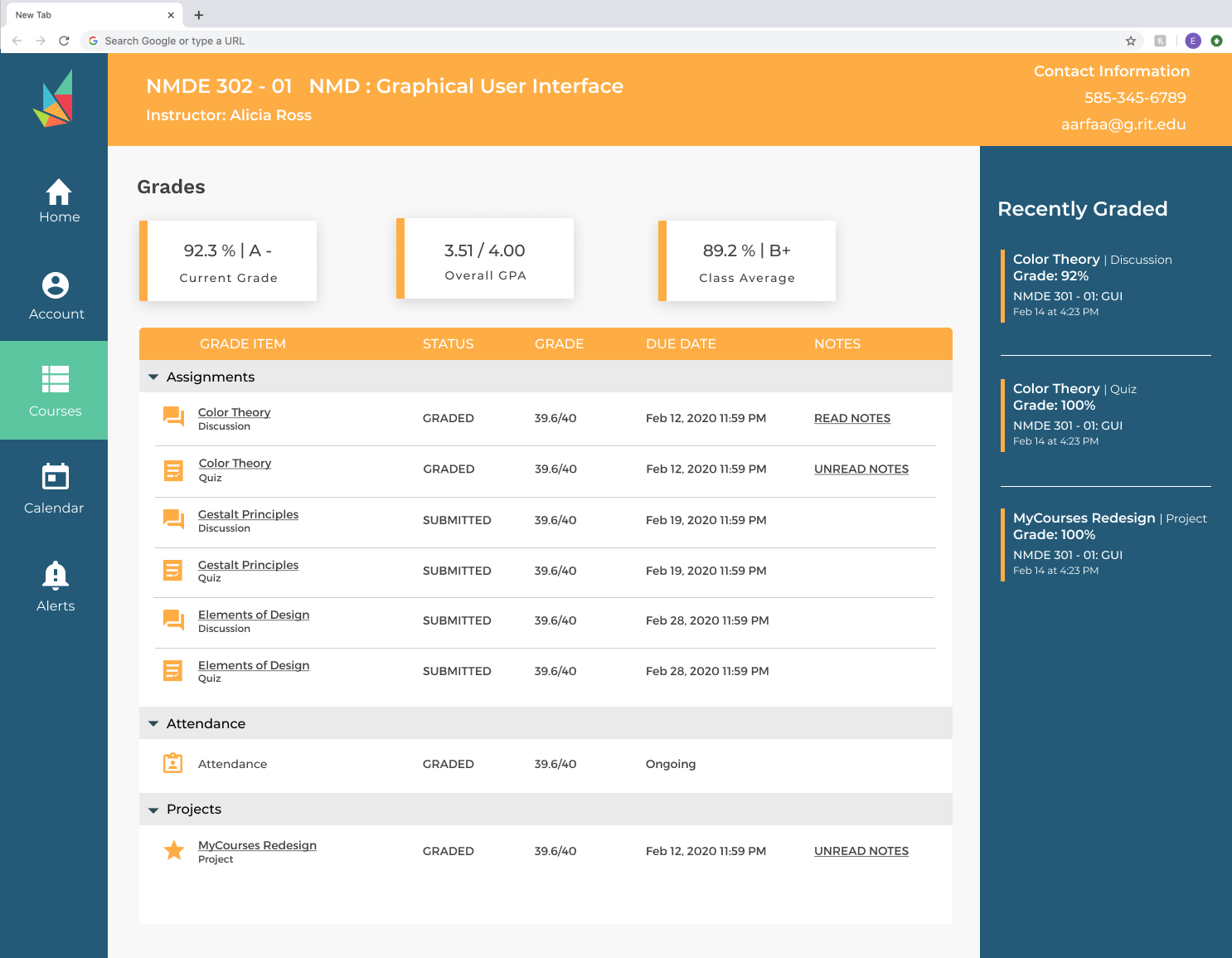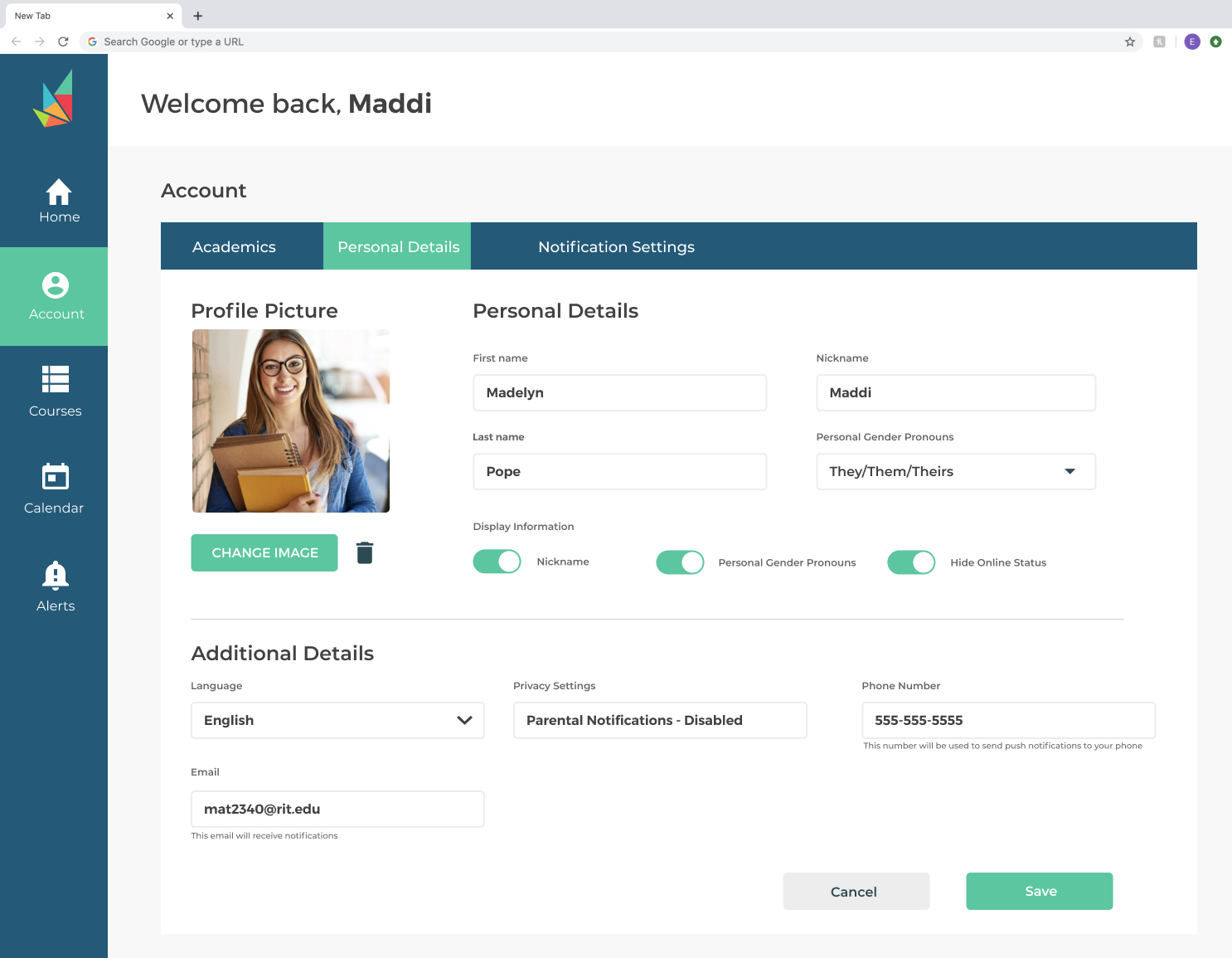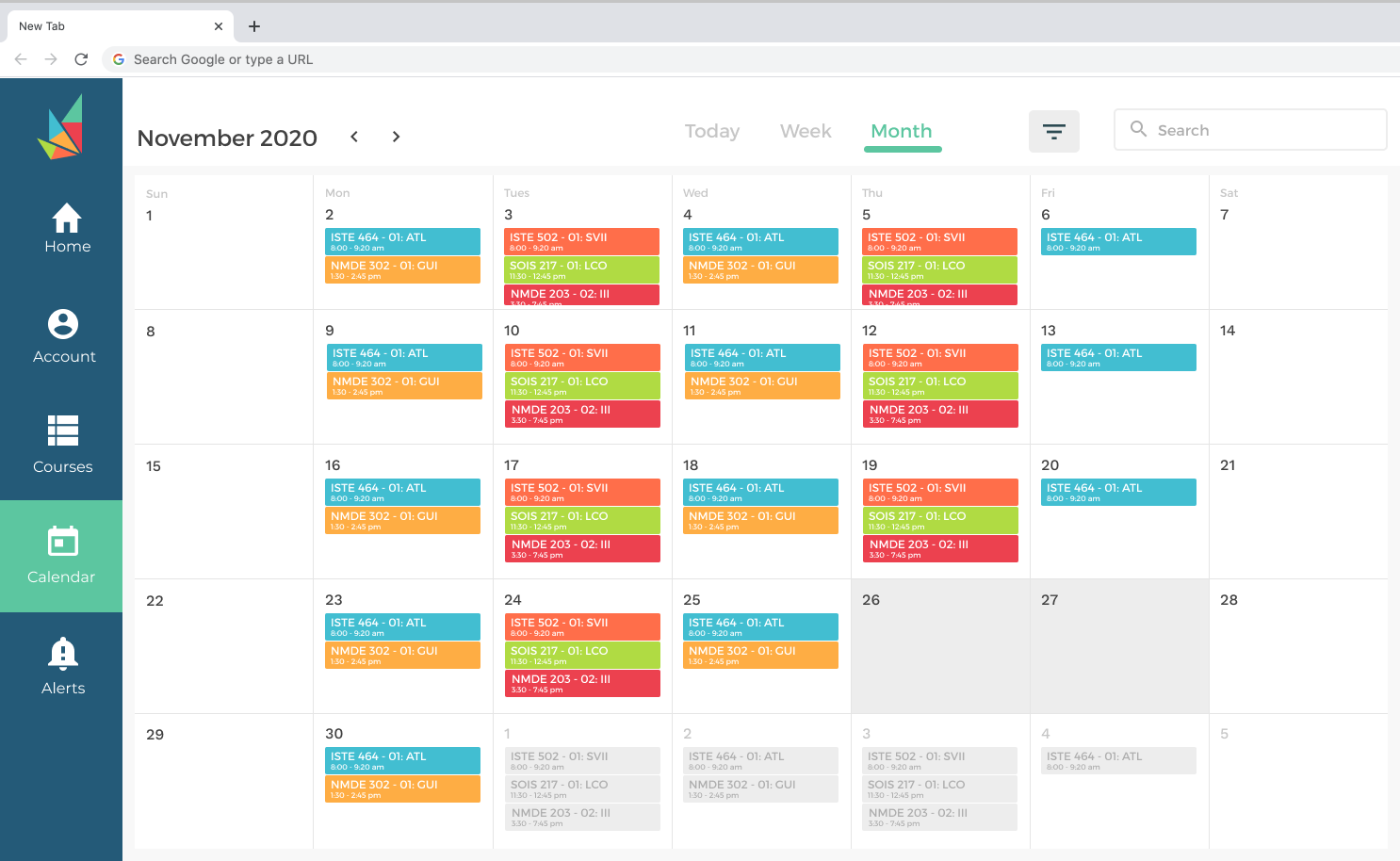 Key Takeaways
Overall, I really enjoyed the final result of this project. While this project didn't focus on research as much as I would have been comfortable with, it was still a good exercise in design.
Listen to the Users
Redesigning a system in which we were already users was challenging. We had to step out of the mindset of users, and let go of our own frustrations and assumptions. This allowed us to uncover pain points unknown to us and gain a deeper understanding of our user base.
Teamwork
Throughout the redesign process, we had to learn how to work as a team and understand and respect each other's strengths and weaknesses. In doing so, we learned skills such as adaptability, collaboration, and compromise.
Accessibility
Our design relies heavily on color as a way to separate content, which can inhibit users with colorblindness from using our solution effectively. If our team were to back and redo the project, we'd include an additional indicator for more clarity.